Human Rights Campaign calls Christian conservative groups 'the enemy' in 'state of emergency' report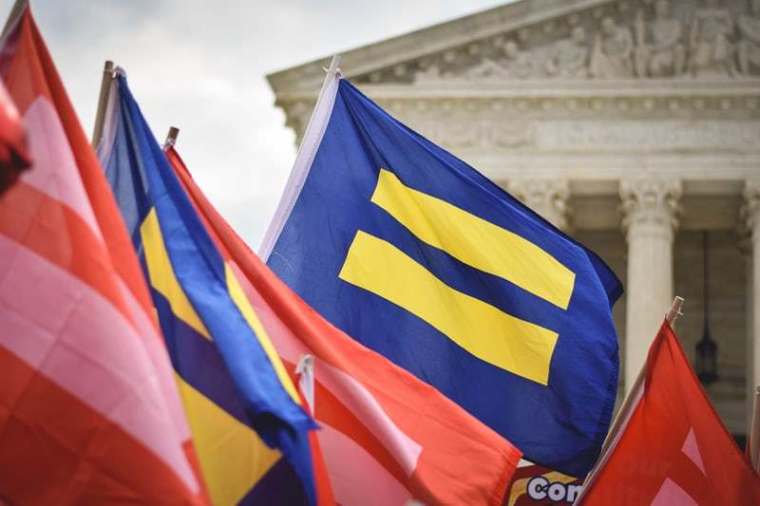 An influential LGBT political advocacy group has labeled several high-profile conservative and Christian organizations as "the enemy" in a "state of emergency" report warning of efforts by lawmakers to push forward with what the group calls anti-LGBT legislation.
The Human Rights Campaign (HRC), which bills itself as the nation's largest LGBT civil rights organization, released a report on Tuesday warning of an "imminent threat" due to more than 75 bills signed into law in 2023, including bans on biological males participating in female sports as well as laws requiring males and females to use restrooms corresponding to their biological sex. 
Calling the 2023 state legislative session "the worst year on record" for LGBT-related legislation, the HRC report also includes a guidebook on how to "fight back" against such efforts. 
The manual includes a section with the header, "Know the Enemy/Opposition," naming three of the most well-known Christian and conservative policy advocacy groups. One of those groups is the Family Policy Alliance, the lobbying arm of Focus on the Family, which was vandalized last November following the Club Q in Colorado Springs.
The other organizations HRC names are the Heritage Foundation, arguably the leading conservative public policy think tank in Washington, and Alliance Defending Freedom (ADF), a legal nonprofit founded by Christian leaders that has won several U.S. Supreme Court cases in defense of religious freedom. 
Referring to ADF as a "hate group," the HRC manual accuses the ADF of defending "state-sanctioned sterilization of transgender people abroad" and claiming that a "'homosexual agenda'" will "destroy Christianity and society." It also slams ADF for its work on "religious liberty" legislation that HRC claims will result in the "denial of goods and services to [LGBT] people on the basis of religion."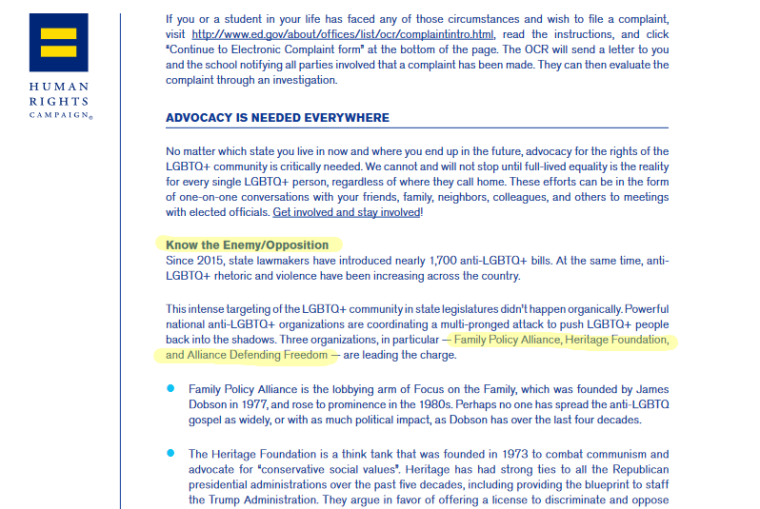 The guidebook also identifies Moms for Liberty, a political action committee founded in 2021 that helped flip school board seats to conservatives, under the "enemy" section for its work on "parental rights" and aligning itself with "anti-LGBT" conservative Christian groups.
The HRC report cites the Alabama-based Southern Poverty Law Center (SPLC), which earlier this week labeled Moms for Liberty as an "extremist group" because of its "opposition to public health regulations for COVID-19" and "[LGBT] and racially inclusive school curriculum."
Calling the guidebook little more than "a PR stunt," Jeremy Tedesco, ADF SVP of Corporate Engagement, pointed to the close political ties between HRC and SPLC.
"HRC's slanderous attack of ADF is riddled with inaccuracies, half-truths, and blatant lies that have been discredited time and again," Tedeco told The Christian Post via email Thursday. "These lies originate with the thoroughly discredited, blatantly partisan Southern Poverty Law Center, which now includes moms and dads seeking a voice at school board meetings on its so-called 'Hate Map.'"
Tedesco said he views the SPLC as an "activist outfit known for sexism, racism, and condoning domestic terrorism" and shared links to reports about similar allegations against the SPLC, including the arrest of an SPLC attorney in an Atlanta Molotov cocktail riot earlier this year.
"No one should be listening to the SPLC," he added.
Conservatives have criticized SPLC's rhetoric as inciting hatred toward Evangelical conservatives. In 2012, Floyd Corkins II carried out a shooting on the Washington, D.C. office of the Christian conservative organization Family Research Council. Corkins told FBI investigators that he saw FRC was listed as an "anti-gay" group on the SPLC website. 
The HRC report did not make any reference to the Covenant School shooting in Nashville earlier this year, where a trans-identified shooter killed six people, including three children.
In 2020, the Human Rights Campaign urged then-President-elect Joe Biden and his administration to advance policies that would strip accreditation from Christian colleges that uphold rules and stances that oppose homosexuality.
Christian conservative columnist Austin Ruse accused HRC in 2018 of filing a false complaint with the FBI after he spoke out against its campaign to place LGBT signs in the front windows of businesses nationwide.
Ruse, the president of the Center for Family and Human Rights, said he was visited by an FBI agent who was following up on a complaint filed against him by HRC over a Twitter exchange he had with the organization.
In 2018, the group released "Coming Home to Evangelicalism and to Self," a 32-page guide containing resources, advice, and testimonials for Christians who are "on the journey toward living fully in their sexual orientation, gender identity and expression and in their faith and its traditions."
The guide features personal stories and practical suggestions from what they call a "wide variety of evangelical voices" in order "to spark new ideas, new dialogue and new courage," citing surveys and polling data showing rising support for same-sex marriage among younger generations.