Hurricane Jose Could Threaten Florida as Irma Leaves More Than 6 Million Powerless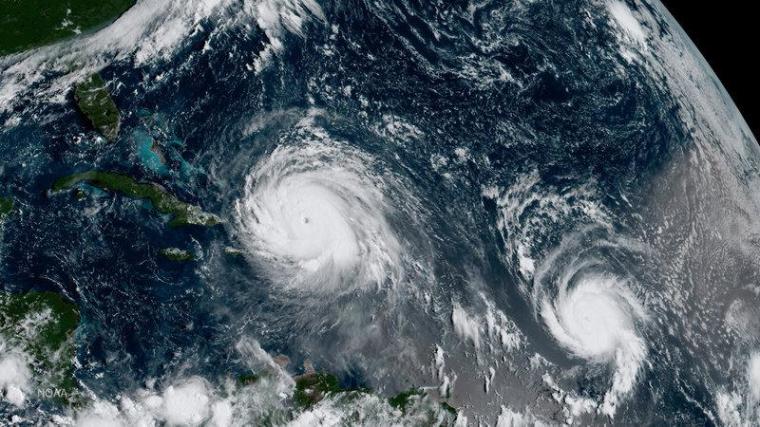 Floridians could be in for another rough weekend if Hurricane Jose, a Category 2 storm lingering in the western Atlantic as of 8 a.m. Monday, becomes a threat to the sunshine state over the next several days.
State officials said more than 6 million Florida residents were left without power after Hurricane Irma, downgraded to a tropical storm on Monday, lashed much of the state and is now headed toward Georgia.
In a 5:00 a.m. update on Jose Monday, the National Hurricane Center said the storm was moving at 10 mph north-northwest. It is expected, however, to make a loop on Monday night and start a slow move toward the east coast.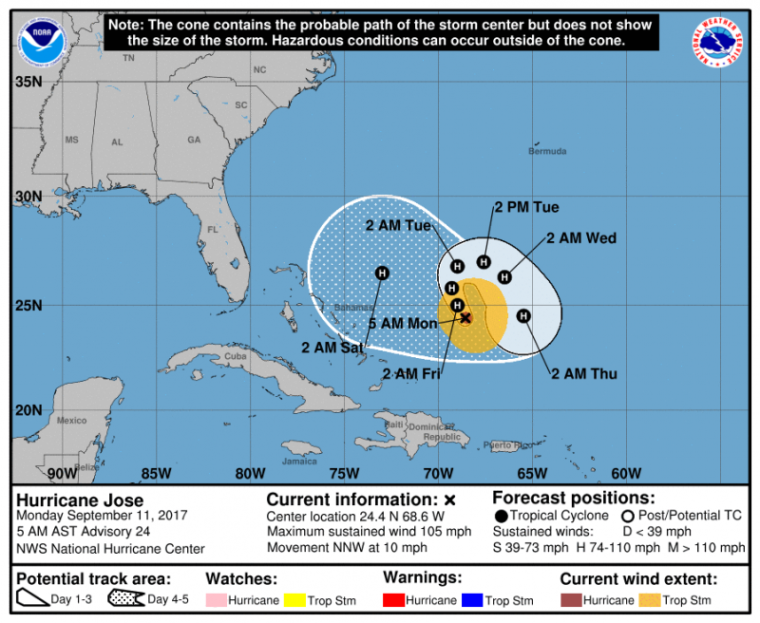 "Jose is moving toward the north-northwest near 10 mph (17 km/h), and a turn toward the northeast is expected by tonight, with a reduction in forward speed. Jose is then expected to move slowly toward the east and southeast Tuesday into Wednesday," said the National Hurricane Center.
With 105-mph winds, Jose is expected to generate swells that will affect portions of Hispaniola, the Bahamas, and the Turks and Caicos Islands over the next couple of days.
Mark Skoneki of The Orlando Sentinel noted, however, that because Jose's "cone of uncertainty" looks more like a circle at this point, the storm could go in any direction as it continues its swirl over the Atlantic.
He pointed to hurricanes like Hurricane Jeanne in 2004 that had a similar looping pattern to Jose.
"Jeanne appeared to be heading out to the open Atlantic only to turn around and strike the Florida coast. It was one of four hurricanes to hit the Sunshine State that year," Skoneki wrote.
Meteorologist Greg Porter explained in The Washington Post that "a complicated high-altitude environment over the Atlantic Ocean" has kept Jose hanging around in the Atlantic.
"Unable to move to the north and restricted from moving to the east by a developing upper-level high pressure, Jose should have no choice but to meander for a few days between Bermuda and the southeast U.S.," he said.
And while Jose continues to churn in this "loop to nowhere," Porter doesn't expect the storm to lose any of its intensity with "plenty of warm water for fuel" with SSTs (sea surface temperatures) over 29C (84 degrees Fahrenheit) for the entire forecast period," according to The Hurricane Center.
Forecast models aren't sure what will happen to the system after Friday but Porter speculates that where Irma ends up could play a crucial role in Jose's path.
As of 8 a.m. Monday, Irma had maximum sustained winds of 70 mph and gusts of more than 90 mph. At 8 a.m., the storm was about 105 miles north-northwest of Tampa where storm surge warnings remain in effect. Officials could not yet say the extent of Irma's damage on the state but noted that it had weakened at a faster rate than expected.