Hurricane Maria Devastates Dominica as Prime Minister Declares 'We Shall Survive by the Grace of God'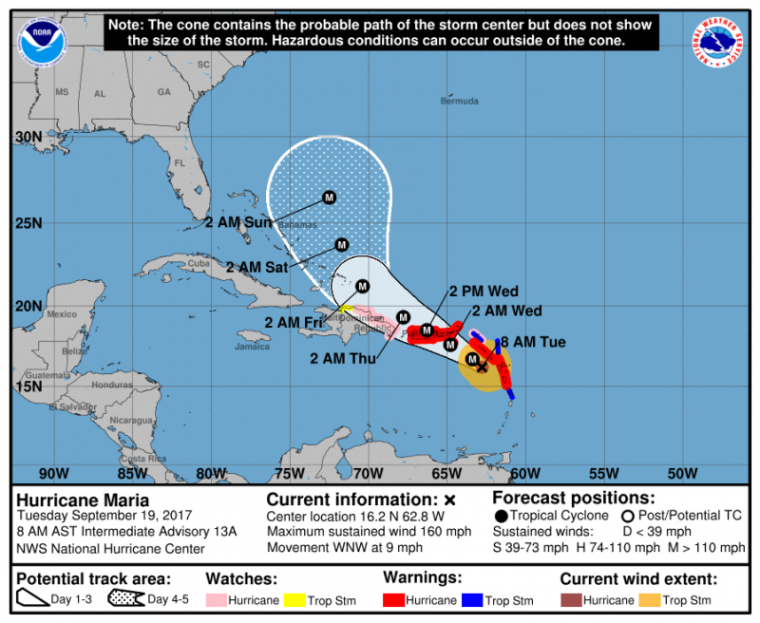 "The winds are merciless! We shall survive by the grace of God!" Prime Minister Roosevelt Skerrit of the small Caribbean island nation of Dominica declared as the powerful Category 5 Hurricane Maria ravaged his country Monday night.
An hour later, the roof of his official residence was ripped away by maximum sustained winds of nearly 160 miles per hour, and he had to be rescued as his house began to flood.
"Initial reports are of widespread devastation. So far we have lost all what money can buy and replace. My greatest fear for the morning is that we will wake to news of serious physical injury and possible deaths as a result of likely landslides triggered by persistent rains," Skerrit said in a statement on Facebook four hours after he was rescued.
"So far, the winds have swept away the roofs of almost every person I have spoken to or otherwise made contact with. The roof to my own official residence was among the first to go and this apparently triggered an avalanche of torn away roofs in the city and the countryside," he noted.
The worst came just hours after Skerrit and the people of Dominica, which has a population of just 72,000, waited hopefully and prayerfully as Hurricane Maria made landfall Monday.
"We do not know what is happening outside. We not dare look out. All we are hearing is the sound of galvanize flying. The sound of the fury of the wind. As we pray for its end!" Skerrit said earlier before the storm ripped into his home.
And things just kept getting worse after that.
"Certainly no sleep for anyone in Dominica. I believe my residence may have sustained some damage," he said. "Rough! Rough! Rough!"
"My roof is gone. I am at the complete mercy of the hurricane. House is flooding," he wrote.
In the wee hours of Tuesday, when everything was still dark in Dominica, Skerrit called the damage "mind boggling" and appealed for help to assess what his people would need.
"Come tomorrow morning we will hit the road, as soon as the all clear is given, in search of the injured and those trapped in the rubble. I am honestly not preoccupied with physical damage at this time, because it is devastating ... indeed, mind boggling. My focus now is in rescuing the trapped and securing medical assistance for the injured," he said.
"We will need help, my friend, we will need help of all kinds. It is too early to speak of the condition of the air and seaports, but I suspect both will be inoperable for a few days. That is why I am eager now to solicit the support of friendly nations and organizations with helicopter services, for I personally am eager to get up and get around the country to see and determine what's needed," he added.
A CNN report said Hurricane Maria went from a Category 1 to a Category 5 storm in a mere 15 hours to become the most powerful storm ever to make landfall on the island.
A hurricane warning is currently in effect Tuesday for Guadeloupe, Dominica, St. Kitts, Nevis, Montserrat, the U.S. and British Virgin Islands, Puerto Rico, Culebra, and Vieques.
"A dangerous storm surge accompanied by large and destructive waves will raise water levels by as much as 7 to 11 feet above normal tide levels in the hurricane warning area near where the center of Maria moves across the Leeward Islands and the British Virgin Islands," the National Hurricane Center said.