Ice-T: Coco Photos Show 'Obvious Misconduct'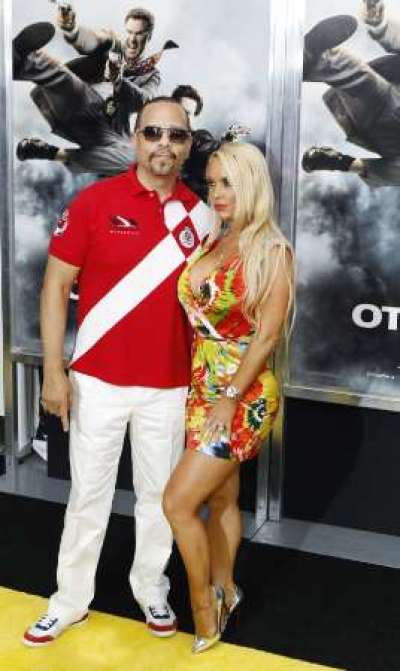 Coco Austin has denied reports that she cheated on her husband Ice T following the release of scandalous photos with another man.
The "Ice Loves Coco" star was photographed intimately embracing Oakland rapper AP.9 during a recent trip to Las Vegas and despite denying the cheating allegations through a public apology, fans continue to criticize the E! Reality TV star via social networking sites.
"Ice is right,the pics I took with this man were in poor taste & I disrespected my husband however the pics were the only thing that happened," Coco tweeted. "I feel so sad,the bottom line is I love Ice & I can understand why he's upset theres no excuse for my actions.I'm so sorry baby & to everyone."
Ice-T, who has been married to the glamour model for 11 years, did not respond well to the photographs in question and at one point the rapper appeared to fuel the cheating speculation by referring to the incident as "obvious misconduct of a married couple." Fans flocked to social networking sites where many vented their outrage and accused Coco and AP.9 of having engaging in an extramarital affair.
"Damn just saw the coco pics...Dirty dirty down right dirty. And women act like guys are the only ones that cheat," Chris Major tweeted.
"Coco dresses and behaves like a woman with loose morals. She is always half naked.. so wrong for a married woman. Not surprised she cheated," Sanya Morales tweeted.
"Ice-T and CoCo.....well actually CoCo what the hell!!!! What possessed you to cheat...." Chantal Brown tweeted.
Ice-T, who also stars in "Law & Order: Special Victims Unit," appeared to have forgiven his wife on Monday just days after the photos surfaced online. Coco, 33, tweeted from the set.
"Chillin with Ice on Law and Order set..we woke up too dang early..need to go back to bed but got a full day ahead," she tweeted Dec. 10.
The Controversial Photos Can Be Seen Here
ICE-T Blasts COCO for Racy Pics with Another Rapper