In Rare Interview, Donald Trump's Wife Melania Praises Fourth GOP Debate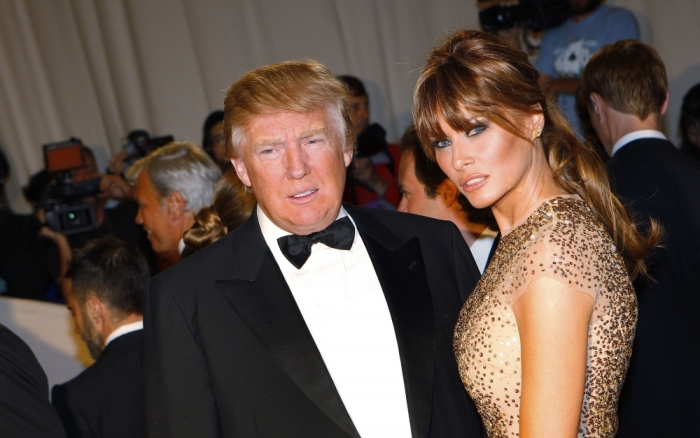 Melania Trump, wife of 2016 GOP presidential candidate Donald Trump, praised the fourth GOP presidential debate held at the Milwaukee Theatre in Milwaukee, Wisconsin as "fair and elegant" in a rare interview Tuesday night.
"A great evening, yes. Just the way it was handled, fair and elegant and fair questions. It's all about the economy and business and he's master of that," the former model said pointing to her husband in a brief reaction to The Brody File about the debate hosted by the Fox Business Network and the Wall Street Journal.
Her husband also agreed with that assessment which is a departure from the poor marks he gave to the third GOP debate hosted by CNBC on Oct. 28 which was pronounced a disaster.
"Well I was very comfortable tonight. I think I've been comfortable in the other three. I just thought this was a very elegant debate. I thought the moderators were fantastic, they did a great job, all three, and it stayed on business," said Trump.
"They weren't asking about fantasy football and things like that. I think that they really should be proud of the job they did and I'm very proud of the job I did, people are saying I did a very good job," he added.
This was a rare outing for Melania, 45, on the campaign trail as she had not been as visible as the wives of other candidates earlier on, according to the Daily Beast. She had been reportedly advising her husband behind the scenes. Apparently, however, the Trump campaign has been introducing her slowly to the public.
Despite the criticism of the earlier CNBC debate, Melania concluded that the moderators, who appeared very adversarial, were simply "doing their job."
"Just keep tough, and smart, and keep going," she said when asked by "Extra's" A.J. Calloway if she thought the moderators were "unfair or hard."
Republican National Committee Chairman Reince Priebus released a statement after the third debate saying CNBC "should be ashamed" of how it was handled the candidates in Boulder, Colorado. The CNBC debate moderators were Carl Quintanilla, Becky Quick and John Harwood.
Trump and his wife revealed in a People interview that they first met at a party in 1998 and while Trump was almost immediately smitten, Melania refused him at first because he had a date when he first tried to get her number.
"It may have been the same moment," that he fell in love, Trump told People.
"I saw Melania and I said, 'Who is that?' "
Trump recalled: "She was a very successful model. She was terrific. I tried to get her number, and she wouldn't give it to me."
According to The Hill, several unscientific polls following the fourth GOP debate Tuesday night crowned Trump the overall winner.
Trump took 38 percent of the vote in the Drudge Report poll as of 7 a.m. Wednesday morning, followed by his GOP rivals Sens. Ted Cruz (Texas) at 22 percent, Rand Paul (Kentucky) at 16 percent and Marco Rubio (Florida) at 12 percent. Other candidates took 5 percent or less in that poll.
Trump also led in Time magazine's online poll, taking 43 percent, followed by Paul at 19 percent, Rubio at 15 percent, Cruz at 7 percent, Ohio Gov. John Kasich at 5 percent while Carly Fiorina and Ben Carson stood at 4 percent each.