Interview: Jeremy Lin on Embracing 'Linsanity' Spotlight, Where God Wants Him to Be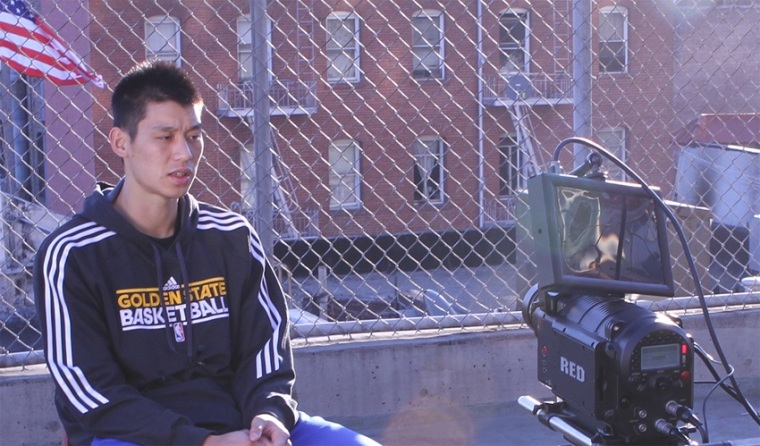 In the film "Linsanity," we watch a young Jeremy Lin play basketball for his youth league, high school, and college teams, with such finesse and fluidity that his success in the NBA, even for that "Linsane" moment in New York Knicks' history, should not have come as a surprise – but it did.
The movie, which is scheduled for a limited release nationwide this weekend, also chronicles that time in February 2012, when the Knicks, while in the midst of a disappointing season, took a gamble on their backup point guard and put him on the court. "Linsanity" also displays Lin's walk in faith with Jesus Christ.
Lin scored more points in his first five NBA starts than any other player in the modern era, and "created a legitimate public frenzy in the process," describes one writer for IMDb.
Despite proof, seen in the movie thanks in part to his dad's love for catching his son playing hoops on videotape, that he was a cut above most players on the court at any age, Lin faced adversity, most likely based on the Asian-American stereotypes others held. He wasn't offered a scholarship by any major university and was not drafted by any NBA team after a standout collegiate career at Harvard.
Recently, The Christian Post caught up with Lin before the Los Angeles premiere of his movie later that night. He talked about his journey of faith in Jesus and life in the NBA. The edited version of the interview is below.
CP: In LINSANITY we learn that you did not really like being in the spotlight. How is that going for you now?
Lin: It's going a little better. I think I've grown to embrace it and be a little more accustomed to it. I'm just learning how to use that in the right way.
CP: In a game, when it's crunch time, I imagine it's important to block out any distractions.
Lin: I love that time. That's the fun part. It's the off-the-court spotlight in terms of having people look at you in terms of analyzing every little thing you do in your life, or having less privacy in your day-to-day activities, that's an area I need to get more accustomed to.
CP: You are an ambassador of sorts in two arenas. One arena is in sports as the first Asian-American to play in the NBA. The other arena is in the world as an ambassador for Jesus Christ. Can you talk about that?
Lin: A lot of people see Asian-Americans as whatever they have their stereotypes for and it has never really been [through] a professional athlete before or at least in a basketball sense. When you think about that, hopefully that's where the most change has occurred.
From the sense of being an ambassador for Jesus Christ, hopefully, through my story and through all the improbables and the miracles that happened in my life, people are inspired or at least a little bit warmer to the idea of exploring who Jesus is.
CP: Can you briefly give your testimony about how you decided to follow the Lord?
Lin: Sure. I grew up in the church and I always kind of knew Bible stories and knew the Sunday school answers, but when I was a freshman in high school I joined youth group and that's when I started to see radical love, that's when I started to see what Christian community is supposed to look like, and what fellowship is supposed to look like. After that year, I decided that there's something different about these people and there's fruit of their faith being shown in their daily lives and felt like that is something I wanted to commit myself to.
CP: What is the most important part of your relationship with Jesus today?
Lin: The most important part is the relationship itself. When you think about your relationship with Christ it really just affects every aspect of your life. I think a lot of people try to segment off like, this is church so this is God, this is my daily life, this is my job, but I think true faith is when it manifests itself in every single aspect of your life.
CP: In the NBA you've played for teams in San Francisco, New York, and now you are in Houston. How are you handling these transitions?
Lin: For me it's just where God calls me to be, and as long as I know that, I will have peace deep down inside even though I might not enjoy what's going on or not enjoy what just happened, or whatever, as long as I know I'm where God wants me to be, that's the most important thing. In my life, He has taken me to a lot of different places and a lot of unexpected turns, but at the end, He's been faithful through it all.
CP: How do you do church when you are on the road?
Lin: You don't really do church when you're on the road, but for me, I have sermons, I have books, and I have people keeping me accountable, whether it's my pastor or my family. When I'm in town I will go to church. You have to be more selective and proactive in certain areas because of my schedule.
CP: Do you have any life verses from the Bible?
Lin: There's a few of them. I would say Romans 5:35 and Romans 8:28. They talk a lot about being able to go through tough times and understand that it's all part of God's perfect plan.
On the Web, http://www.linsanitythemovie.com/.