iPad Air 3 Release Date & Rumors: Specs Include 9.7-Inch Display, 13MP Camera, No 3D Touch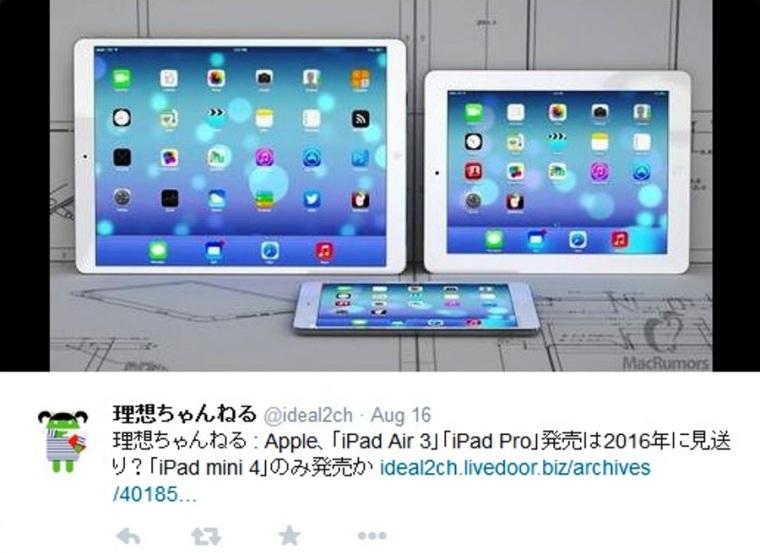 2016 has finally arrived and this means that the gadgets that tech junkies have been waiting for is one step closer to being available. One of the most highly awaited products is the iPad Air 3 from Apple. According to The Bit Bag, the device is expected to be of reach sometime this year.
It's also expected to bring along with it some improvements that will help in boosting sales and going against competitors that are already out in the market. In a report by Youth Health Mag, the iPad Air 3 may come during the March event of the Cupertino-based company. It was initially predicted to launch last October 2015 but apparently, it did not happen supposedly because the spotlight will be on the iPad Pro.
The iPad 3 may arrive at the same time with the rumored iPhone 6c and second generation Apple Watch. As for the specs of the upcoming tablet, JBH News reported that it is expected to have a 9.7-inch display with a screen resolution of 2334 x 3112 pixels. It's also said to have a Touch ID feature and 4K resolution.
Rumors also say that it will carry an A9X processor along with 2 GB of RAM. Some say though that it may have as much as 4 GB of RAM. Lawyer Herald also noted that it will have a 13-megapixel rear camera and 5-megapixel front camera. The internal storage capacity may be 16 GB, 32 GB and 128 GB. A longer battery life and a fingerprint sensor are also expected.
What's missing though from the hearsays is the iconic 3D Touch. Sources noted that the iPad Air 3 will not carry the feature because of some production issues in Apple's supply chain. The device is also touted to have a slender and lighter body compared to the iPad Air 2.
Apple has not confirmed any of the details yet so it's best to take reports with a grain of salt. Until then, interested customers will have to watch out for more updates with the tablet.