Iraq VP Calls Future 'Grim' as Concerns Abound Over Nation's Christians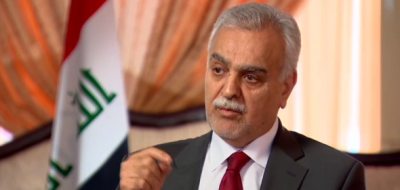 Iraqi Vice President Tariq al-Hashimi warned earlier this week that his country is on the brink of plunging back into a volatile cycle of sectarian violence that could greatly harm the country's diverse population, including the Christian community.
"Al-Maliki is pushing my country to reach a turning point with (a) deeply sectarian dimension," the self-exiled al-Hashimi told CNN Sunday during an exclusive interview in Iraq's semiautonomous northern Kurdish region.
"The future of Iraq is grim," al-Hashimi warned in the interview.
Political tensions have been on edge since U.S. forces pulled out of Iraq in December and Shia Prime Minister Nouri al-Maliki accused Vice President al-Hashimi, a Sunni, of being responsible for running a death squad targeting government and security forces. Hashimi escaped to Kurdistan to avoid detainment under the terrorism charges.
The situation between al-Hashimi and al-Maliki has caused a political tug of war that has propelled Iraq into an even deeper Shia-Sunni power struggle that Hashimi warns could implode into all-out sectarian violence to the levels witnessed in 2007.
As the future of Iraq remains at a volatile tipping point, the prospect for all-out sectarian violence comparable to 2007 would have a destitute impact on not only Iraq's Shia and Sunni Muslims, but also on the country's various minority groups, including its persecuted and rapidly diminishing Christian population.
Sectarian violence first erupted in Iraq following the 2003 U.S. invasion of the country. Prior to the ousting of iron fist rule of Saddam Hussein, sectarian violence was not common, and the sectarian divisions, if present, were largely contained.
Under Hussein's leadership those who targeted or challenged the dictator's power were tortured, imprisoned, brutalized, and violated of utterly all of their human rights. Nevertheless, Iraqi's were allowed to express their faith and intermingling between Iraq's different groups was common. Thus, under Hussein, Christians in the country shared the same relative safety as other groups – so long as they did not oppose the power of the regime.
However, since America's invasion of Iraq, the situation took a drastic turn for the worst and sectarian conflict has put direct strains on Christian communities, causing Iraqi Christians to flee their homeland in droves.
In 2007, head of the Pontifical Council for Interreligious Dialogue, French Cardinal Jean-Louis Tauran warned that Iraq's Christians are not spared in outbreaks of violence, despite the conflict having little to do with them.
"Power is in the hands of the strongest – the Shiites – and the country is sinking into a sectarian civil war (between Sunni and Shiite Muslims) in which not even Christians are spared," he said.
Indeed, violence has not spared Christians and over half of Iraq's Christian population has fled the country. Some estimates even suggest that as many as 900,000 Iraqi Christians have left the country since 2003.
Iraqi Christian lawyer Hani Andrews told PBS that Christians see no future for themselves in the conflict-ridden country, a reality that would only get worse with a renewal of heavy sectarian violence.
"The population is rapidly decreasing and most of them want to flee," Andrews said, arguing that the disappearance of Christians in Iraq would not be unprecedented.
Other research points to a disappearance of Iraqi Christians as a major possibility.
The latest U.S. Commission on International Religious Freedom report found that Christians in Iraq continue to face "systematic, ongoing, and egregious religious freedom violations" and commission leader, Leonard Leo, expressed concern that Christianity could be eradicated in Iraq in our lifetime.
"It is a fact that they (Christians) are living on the verge of extinction in Iraq," Navaid Hamid of the South Asian Council for Minorities told Christian Today.
Thus, if al-Hashimi's predictions prove true and a renewal of heavy sectarian violence erupts to the levels witnessed in 2007, the outcome is likely to have a major impact on the Iraqi people, regional security, and Iraq's minority population of Christians who suffer from the combined impact of little protection and daily persecution.