Iraqi Christian Says ISIS Fighters 'Married, Divorced' Her 9 Times a Night for Rape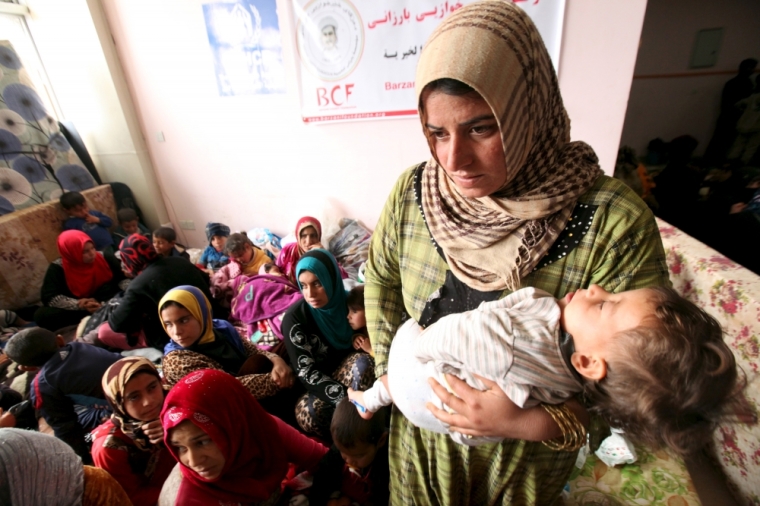 An Iraqi Christian woman in her 30s and a mother of three narrates how Islamic State terrorists "married and divorced" her as many as nine times a night to rape her with "justification" before she escaped their stronghold of Mosul.
"They had me whenever they would desire it. Especially this one, Farouk, who was obsessed with me and he would say, 'I like the people of Jesus,'" the woman says in a video interview with the non-profit group In Defense of Christians, which shared the footage with Fox News.
The woman, whose identify has not been disclosed for security reasons and who is seen crying and shaking in parts of the interview, then talks about how she was "married" by fighters of Islamic State, also known as ISIS or ISIL or Daesh.
"What wedding? For them it was a wedding, but what kind of wedding is this?" she asks.
Her husband disappeared after IS captured Mosul in 2014. "People were leaving, everyone was leaving, I mean, even the Muslims were leaving. But I didn't have anybody and I had hope in my husband and I said to myself, 'If I left, where would I go?' I had no idea where I would go to, so I stayed," says the woman, who was identified as a Christian by IS militants because of a cross tattoo on her arm.
"She asked for her story to be heard in the United States – that it is happening not only to her," In Defense of Christians President Toufic Baaklini tells Fox News. "It's happened to many, many Christians, Yazidis and Yazidi woman, and others."
In March, U.S. Secretary of State John Kerry acknowledged for the first time that genocide is being committed by ISIS.
In April, #WeAreN2016 Congress, an international gathering of high level experts and witnesses held in New York City, called on world leaders to stop the persecution of Christians in Iraq, Syria and elsewhere. "Christians account for 80 percent of persecuted minorities. They are victims of the deliberate infliction of conditions of life that are calculated to bring about their physical destruction in whole or in part," the organizers, which included In Defense of Christians, said. "They are being murdered, beheaded, crucified, beaten, extorted, abducted, and tortured."
In its English propaganda publication, the Sunni terror group last year sought to justify its barbarity, saying it is "Islamic" to capture and forcibly make "infidel" women sexual slaves.
"Before Shaytan [Satan] reveals his doubts to the weak-minded and weak hearted, one should remember that enslaving the families of the kuffar [infidels] and taking their women as concubines is a firmly established aspect of the Shari'ah that if one were to deny or mock, he would be denying or mocking the verses of the Qur'an and the narration of the Prophet … and thereby apostatizing from Islam," stated the IS' propaganda magazine "Dabiq."
IS is an offshoot of al-Qaeda and wants to establish a caliphate in the Levant region and beyond. It has gained control over large swathes of territories in Syria and Iraq, and is seeking to expand its territory.
However, IS is increasingly being seen as losing its territory.
In Iraq, ISIS has lost almost half of the territory that it once held in Iraq after it swept across the country in June 2014, a Pentagon spokesman said last week. "The number right now in Iraq is about 45 percent of the territory they once held has been recovered," spokesman Peter Cook said, according to Newsweek. "The number in Syria is anywhere between 16 to 20 percent."