Is Planned Parenthood's 'Torture Sex' Advice Making Its Way Into the Classroom?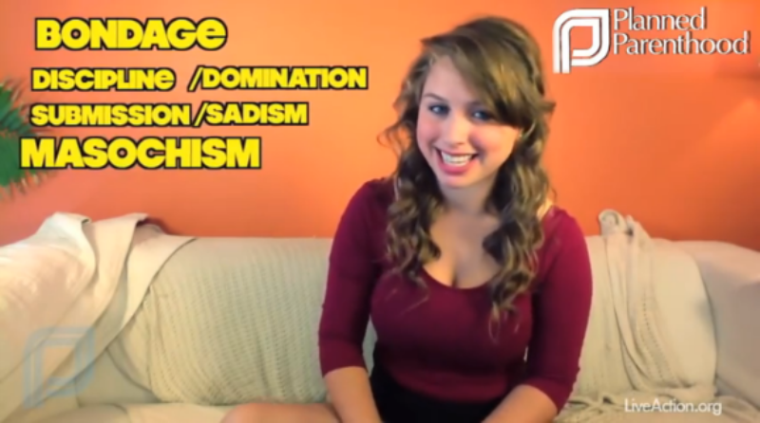 In the latest installment of "SexEd: Planned Parenthood's Dangerous Sex Advice for Kids," an Oregon Planned Parenthood counselor is shown telling a 15-year-old girl, who's under the legal age of consent, to watch porn, go to a sex shop, and experiment with bondage and hitting with her boyfriend.
Live Action released its fourth undercover video last week, with others soon to follow, that shows a Planned Parenthood counselor and nurse giving BDSM (bondage and discipline/dominance and submission/sadism and masochism) or "torture sex" advice to a girl whom she believes is only 15.
"The workers are not only telling the underage girls to practice sadomasochism, bondage and discipline — violent and destructive sexual practices — but also to access sex shops and porn websites when there's a question of consent there," Lila Rose president of the pro-life group Live Action, told Fox News' Bill O'Reilly earlier this week. "I think the other bigger question is that some of these relationships are adult-child relationships, statutory rape — we've been investigating that at Planned Parenthood for years. Planned Parenthood doesn't report sexual abuse, so that's another dimension to this."
Last month, Live Action released a video compilation that shows Planned Parenthood staff talking to an underage girl about bondage and sadism, circumventing statutory rape laws, and recommending a clinic that will perform illegal abortions on sex trafficked girls who are 14 and younger.
According to Live Action, Planned Parenthood receives $500 million a year in taxpayer funding, which includes sex education for teens. Under Obamacare, federal spending on teen sex education will increase by an additional $75 million, with an undisclosed amount going to Planned Parenthood.
"Over $1 billion is their budget, and over $500 million a year comes from taxpayers," Rose said. "They're the biggest abortion chain, killing over 320,000 children in the womb every year; and this is the destructive practices and tips that they're giving to underage girls — not just in their clinics, but they're in school systems and they're trying to create relationships in the community."
Rose asserted that the undercover videos should motivate parents to call their school board and demand that they ban the organization and its sex education materials from public schools.
"Parents need to call their school board and say: Kick Planned Parenthood out; we don't want them influencing our children," she said.
In June, Republican Gov. of Louisiana Bobby Jindal signed pro-life bill HB 305 into law that prohibits abortion providers, including Planned Parenthood, from going into public and charter schools to distribute their information or talk to students about sex education, birth control and abortion.
Penny Nance, president of Concerned Women for America, described Planned Parenthood counselors' BDSM sex advice to young girls as being tantamount to "government-funded child abuse," during a segment on Fox News' "Hannity" Wednesday night.
"This child came in and asked for information, but what she was told was to let a man tie her to a tree and beat her; and it's fine as long as she says the word Jell-O [referring to a so-called safe word]," Nance said.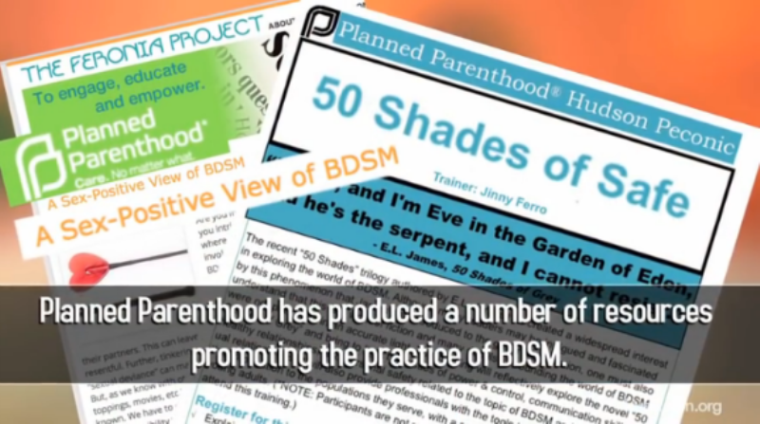 Live Action noted in a statement shared with The Christian Post that the Columbia Williamette Planned Parenthood affiliate that operated the Clackamas clinic where the footage was taken has since closed. The affiliate, however, continues to receive funding through Obamacare and is still operating other clinics in the region.
In a written statement to KGW-TV in Portland, Planned Parenthood did not deny that the underage girl was given BDSM sex advice and told to experiment and watch porn. But they did attack Live Action for its pro-life activism.
"A group opposed to our mission and services has a history of pretending to be patients and secretly recording visits with staff and then using highly edited versions of these videos to create a false impression of our services, mission and values," Planned Parenthood noted in their statement.
Live Action has posted unedited videos from their undercover investigations on its website Planned Parenthood Exposed.
The pro-life group's website also lists resources Planned Parenthood provides to teens through its website, Go Ask Alice!, which they said describes, "how sexual partners can beat each other."
Live Action also cites Planned Parenthood's sponsorship of a seminar for educators called "50 Shades of Safe," that teaches "how a BDSM relationship is successfully navigated between sexual partners."
"The most important thing for parents and taxpayers to understand here is that they are paying for this," Drew Belsky of Live Action told CP in an earlier interview. "There's a huge segment of the American public who are not interested in being forced to fund lessons on violent sex for their teenagers, yet Planned Parenthood gets piles of money to indoctrinate our children into whipping each other, beating each other and making each other bleed."
Laci Green, a peer sex educator, who is paid by Planned Parenthood's Northern New England office to post videos about sex education, provides details about BDSM sex and BDSM sex clubs on the organization's "A Naked Notion" website and YouTube channel aimed at teens. Only recently did Planned Parenthood put a disclaimer on the BDSM YouTube videos stating that they discusses mature content intended for people who are 18 or older. Green has declined to respond to CP's requests for an interview about her videos for Planned Parenthood.
"Planned Parenthood loves to talk about how the hundreds of millions of dollars it receives in forced tax funding goes not to abortion, but rather to supposedly harmless initiatives like sex education. Even if this were true (it's not), we're exposing exactly what goes on in those 'harmless' tax-funded programs," Belsky added.