ISIS' Apocalyptic Magazine Vows to Attack Israel, US Troops as It Conquers Persia, Rome and Arab States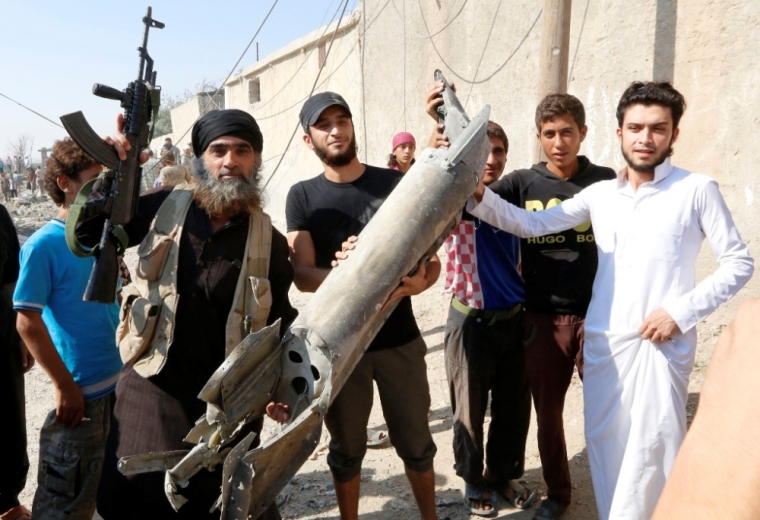 The Islamic State of Iraq and Syria is vowing to attack Israel over its most-recent conflict with Hamas, and to fight against U.S. troops and the anti-Christ as it conquers Persia and Rome.
"As for the massacres taking place in Gaza against the Muslim men, women and children, the Islamic State will do everything within its means to continue striking down every apostate who stands as an obstacle on its path toward Palestine," reads an entry in the publication Dabiq, which has been distributed in numerous languages, including English.
"[The Islamic State's] actions speak louder than its words and it is only a matter of time and patience before it reaches Palestine to fight the barbaric Jews and kill those of them hiding behind the gharqad trees — the trees of the Jews," the terror group threatens in Dabiq.
The magazine was named for a town believed to be where Muslims and Westerners will clash before the apocalypse, with the second issue focused on the story of Noah's flood.
It also includes photos and reports about actions being taken against Kurdish fighters in Northern Iraq, with its final page promising future conquests by ISIS.
"You will invade the Arabian Peninsula and Allah will enable you to conquer it. You will then invade Persia, and Allah will enable you to conquer it," read the back cover.
"You will then invade Rome and Allah will enable you to conquer it. Then you will fight the Dajjal [Anti-Christ], and Allah will enable you to conquer him."
An offshoot of al-Qaeda, ISIS has garnered international attention for its military victories and extreme violence against civilians and religious minorities.
The extremist Islamic organization holds territory in both war-torn Syria and Iraq, with substantial funds being generated from oil sold on the black market and private donations.
Many have noted that ISIS has used social media and the Internet to reach out to young Muslims, both in the Middle East and Western countries.
Josh Kovensky of the New Republic wrote that ISIS might have already replaced al-Qaida "as the go-to organization for young jihadists."
"ISIS's tactics span all media, with devoted Twitter accounts and YouTube channels, including ones that showed the horrifying — and slickly shot — execution of photojournalist James Foley," wrote Kovensky. "… much of Dabiq's content focuses on a coming apocalypse, while pulling out the same glossy stops that one would expect from an American magazine."
In addition to the written publication, ISIS also released a video Tuesday warning the U.S. of future attacks against U.S. forces due to President Barack Obama's promise to "degrade and destroy" the terror group.
"The 52-second clip — the latest in a long line of well-produced propaganda videos — features slow-motion explosions and clips of attacks previously carried out against U.S. forces," noted NBC News.
"Images of Obama and then the White House at dark flicker and flames appear to engulf U.S. troops. 'Flames of War: Fighting Has Just Begun' flashes on the screen, before it ends with the words 'Coming Soon.'"