ISIS Beheaded Children With Axes, Survivors of Terror Group's Genocide Cry Out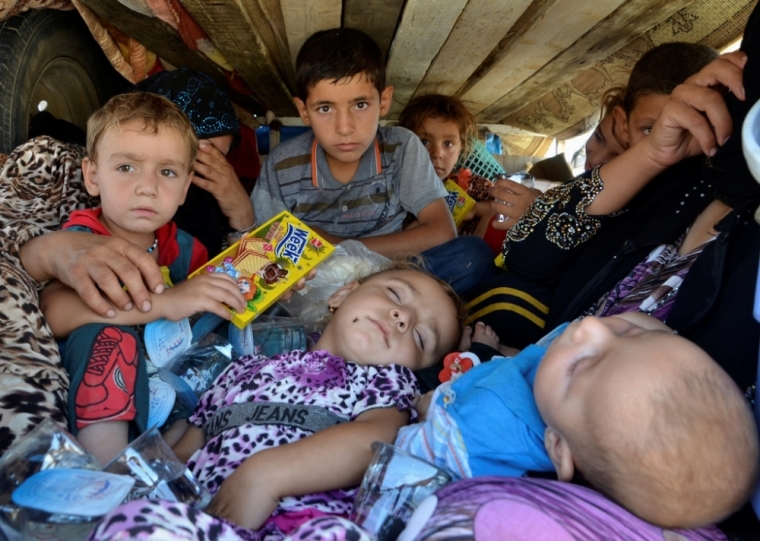 A Yazidi mother and her son have detailed their community's horrific encounter with the brutal Islamic State terrorist group, and described how the jihadis conquered their homeland in Iraq in 2014 and heinously beheaded children.
CNS News reports that the unnamed Yazidi woman and her eight children appeared in a video testimony published by the Yezidi Human Rights Organization and produced by Dr. Hawar Moradi, a medical doctor who has worked at a number of displacement camps in northern Iraq.
As IS (also known as ISIS or ISIL) captured Yazidi territories in northern Iraq in August of 2014, the mother recalls the panic and urgency to flee the area that the Yazidis felt. Although thousands of Yazidi families are now living in displacement camps in Kurdistan, not all Yazidis were able to escape the wrath of IS.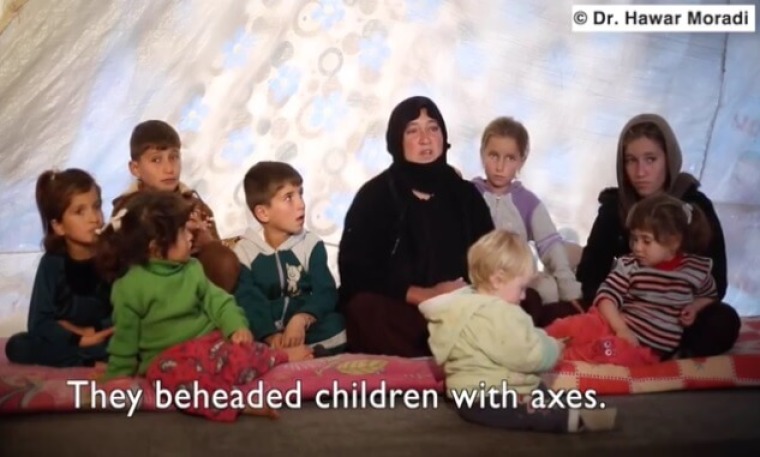 "Many didn't have a car and as they fled on feet, they were shot and killed. Many people were killed," the mother said. "They took by force women and girls. They cut off the head of children."
In particular, her oldest son added, "Daesh was on the hunt for the Yazidis."
"We [Yazidis] were all alone," he said. "They came and surrounded us."
As IS marched into Yazidi areas and took control, Yazidis who were not able to escape were often split up by gender. While many of the women and girls were loaded into trucks and hauled away by militants to be sold as IS sex slaves, most of the men and older boys were systematically killed.
"They called and told us that they [ISIS] had abducted our girls," the mother said. "People were talking about children dying of thirst, hunger and being beheaded by ISIS. They abused our girls and women."
The mother explained that Yazidi parents were sent videos showing their daughters being abused and raped by IS militants.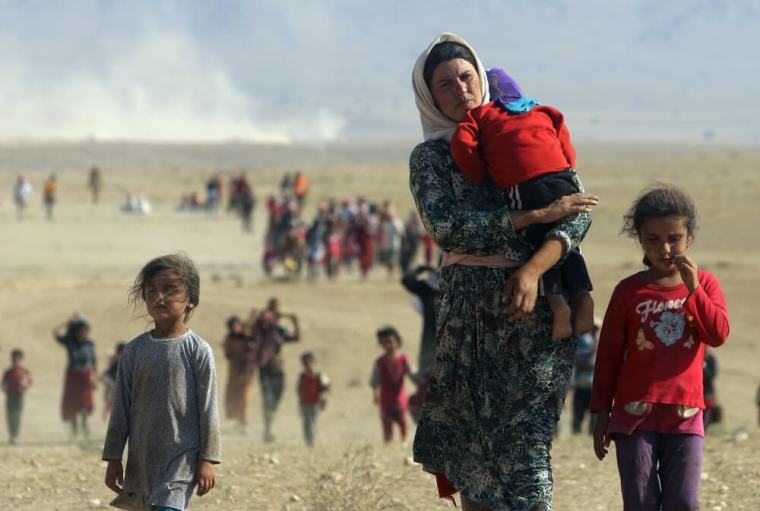 "They filmed while abusing our girls and women and send it to our phones," the woman cried out. "They tied their hands and led them away in cars. They beheaded children with axes."
"How could they deprive us Yazidis our honor?" she asked. "How can any religion ever accept these actions? They have their religion and we believe in ours. Why dishonor our religion?"
The said her husband and the father of her children killed himself because he was so "angry" and "helpless." The woman began to cry after recalling her husband's death.
"My father committed suicide because he felt helpless," the son explained. "I and my brother touched his blood with our hands and painted our faces with it."
Although it has been over two years since IS rose to power and kidnapped thousands of Yazidi women and girls, it is estimated that IS still holds as many as 3,000 as sex slaves, many of whom have been raped and abused by multiple militants and are malnourished.
The suffering that the Yazidi women and girls have suffered at the hands of IS has caused a number of them to risk their lives and escape or kill themselves.
Last month, American Pastor Bill Devlin visited with displaced Yazidi families in Iraq. He told The Christian Post about one 22-year-old Yazidi girl who he spoke to who poured kerosene on her face and set herself on fire in an attempt to make herself undesirable to IS militants.
"She told me that the only way she knew to be delivered from ISIS was if she was ugly," Devlin said. "She melted her face by lighting it on fire after dousing it with kerosene. So, ISIS said to her, 'We are not going to take you because you are so disfigured.'"