'ISIS Beyond Anything We Have Seen,' Pentagon States as Persecution Continues in Iraq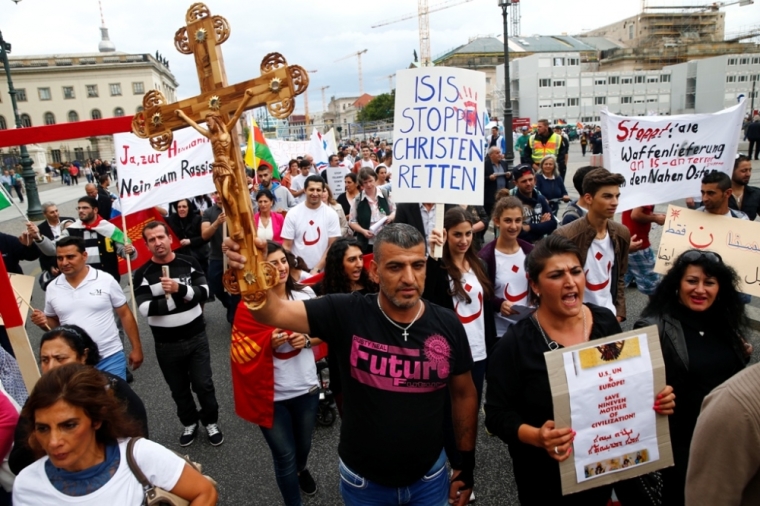 As ISIS continues to kill Christians and religious minorities throughout Iraq and Syria, the Pentagon has issued a statement warning of the extremity of ISIS' actions and the danger the Jihadists pose.
"They are beyond just a terrorist group," Defense Secretary Chuck Hagel said during a news briefing on Thursday. "They marry ideology, a sophistication of strategic and tactical military prowess … this is beyond anything we have seen, and we must prepare for everything. And the only way you do that is that you take a cold, steely hard look at it and get ready."
It's the second time this week that ISIS' ideology has been condemned by the U.S. government. President Obama addressed the group's motives during a press conference on the murder of American journalist James Foley, who was beheaded by ISIS, and whose death has stirred emotions around the world.
A video of the death was verified by the U.S. government, and his parents have consistently spoken about their son's Christian faith and that they never gave up hope for their son's release after being captured in 2012 while working as a journalist in Syria.
ISIS "speaks for no religion," Obama said. "Their victims are overwhelmingly Muslim, and no faith teaches people to massacre innocents. No just God would stand for what they did yesterday and what they do every single day. [ISIS] has no ideology of any value to human beings. Their ideology is bankrupt."
"They may claim, out of expediency, that they are at war with the United States or the West, but the fact is, they terrorize their neighbors and offer them nothing but an endless slavery to their empty vision and the collapse of any definition of civilized behavior. There had to be a clear rejection of these kind of nihilistic ideologies," Obama continued.
ISIS has been persecuting Christians and religious minorities such as the Yazidis in order to establish their Islamic Caliphate. More than a million have fled their homes in Iraq alone, after being given the ultimatum by the group to convert to their radical form of Islam or be put to death. Earlier this week, one report stated that hundreds of Yazidis had converted to Islam against their will in order to avoid death.
ISIS militants currently have the town of Amerli cut off from food, water, and medical supplies. The town is home to 18,000 Shi'ite Turkmen. Officials have begged British and American forces to intervene on their behalf before it is too late.
"There are children who are only eating once every three days," Dr. Ali Albayati, who lives in the town, told the BBC. "It is a humanitarian disaster – 20,000 people in Amerli are fighting off death."
Obama has ordered continuous, targeted airstrikes to help Kurdish forces battle the ISIS militants; the Kurds have been offering protection to the persecuted in the country.
"We are grateful to the men and women of the American armed forces who have carried out these decisive attacks against the terrorist forces of ISIS," a statement from Kurdistan's regional government read.
"Like Mr. Foley, several hundred innocent members of the Yazidi and Christian communities have been killed in the same manner," Nechirvan Barzani, the prime minister of the regional government said in a statement. "There is no way to overstate the extent of this inhumanity, and it illustrates the true, dark nature of the terrorists that we are confronting."