ISIS Child Soldiers Behead Captives in Chilling Amusement Park Video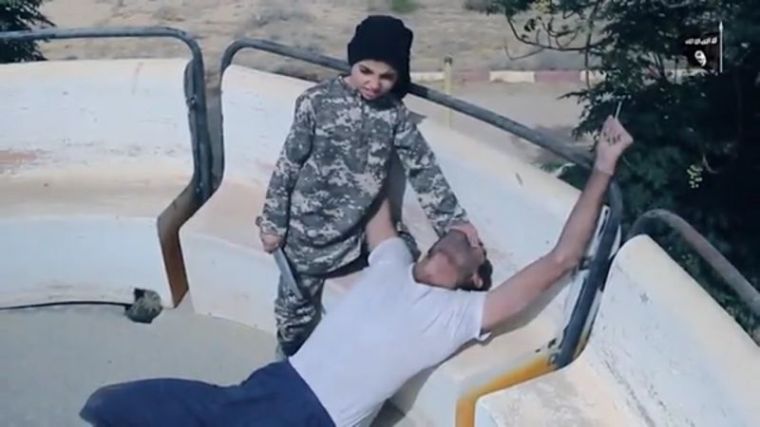 The Islamic State terror group has released a new video showing brainwashed children, some only 10 years old and younger, killing Kurdish captives by shooting them in the head and cutting their throats, in a location that appears to be an abandoned amusement park.
The new video is titled "Occasional in His Own Blood," according to The Sun, and was reportedly filmed in the city of Deir ez-Zor in Syria.
The children in the video wear camouflage army-style uniforms, and stand next to the IS flag, in between footage of carrying and using guns and knives.
One of the victims featured in the video is believed to have been from the Kurdish PKK, one of the many groups fighting IS in the region.
The "cubs of the Caliphate," as IS calls children it has taken and indoctrinated into its ideology, have appeared in several videos to demonstrate the terror group's influence over young people.
Another 40-minute propaganda video released in October showed IS children executing Christians by shooting them to death, crucifying them, and beating women and children.
Syrian mother Alice Assaf, who hails from the Damascus suburb of Adra al-Ummaliya, described in an interview how IS radicals murdered hundreds of civilians in a ruthless killing spree.
"Members of 200 different families were killed right before our eyes," Assaf said.
"They shot them. We witnessed the shooting of so many. So I told my children [and thought] it was better for us to die in our own home so that our other family members would know our fate. When we got home, one person said to me, 'ISIS is killing Christians.'"
The brainwashed children have been trained to become the next wave of jihadis who will "conquer Damascus, Baghdad, Jerusalem, Mecca, Al-Medina, Dabiq, Rome and Andalusia," according to an IS propaganda video released in September.
The footage showed the cubs of the Caliphate wearing green uniforms reading and reciting from the Quran, the Islamic holy book.
"I want to be a martyrdom-seeker for the sake of Allah, thus heeding the words of the Prophet Muhammad: 'The martyrs that Allah loves most are the ones who fight in the front lines and do not turn their backs until they are killed,'" one of the children declares.
Charlie Winter, researcher at the counter-extremism think tank Quilliam, said in March 2015 that it would be wrong to think that the children are choosing to join IS, however.
"Even if they have the perception of choice, it's not choice. If you're a minor and being indoctrinated from a very young age, you don't have the power to make a serious choice. I think that it's certainly worth considering more robustly that people are being groomed," Winter said.