ISIS Horror: Sex Slave Survivor Tells Congress 'America Must Act to Terminate Terrorists'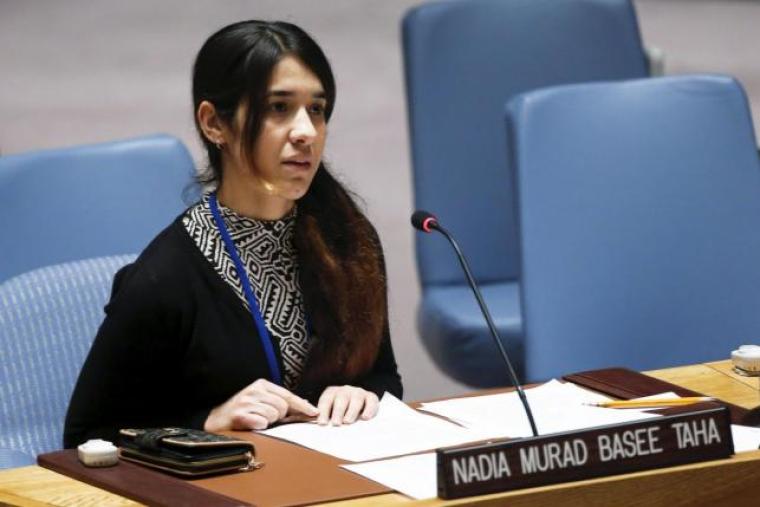 Nadia Murad, a former Yazidi sex slave who was held captive by the Islamic State before she escaped in 2014, told members of Congress that the Obama administration must escalate its actions in Iraq if the terror groups is going to be defeated.
"The USA must act. We must terminate Daesh (IS) and all such terror," Murad told the Senate Homeland Security Committee, according to CNN.
Murad said IS will not willingly give up their weapons, and described the suffering of persecuted minorities in Iraq and Syria, including Yazidis and Christians, who "cannot wait" any longer for help.
She also called on the administration and other countries "to establish a safe and protected zone for Iraqi and Syrian religious minorities," which President Barack Obama has repeatedly rejected, local news station WMUR reports.
In her testimony Murad also commented on the deadliest shooting in modern U.S. history, in which IS supporter Omar Matten killed 49 people at an Orlando gay nightclub, by saying that while she was sorry for what happened, she is not surprised by the spread of Islamic terror.
"I knew if ISIS were not stopped, they would deliver their crimes everywhere," she said.
Murad has been sharing her story with the world, recalling the horrors she suffered when IS militants killed six of her brothers and her mother in a single day in Northern Iraq. She was also among the 5,000 Yazidi girls and women IS has kidnapped, and testified before the U.N. that some of things extremists are making women go through are "more difficult than death."
While Murad was able to escape the city of Mosul where she was held after a Muslim family helped her obtain fake Islamic I.D. papers, she says she still does not feel like a free woman.
"I was freed, but I do not (have) the feeling of the freedom because those who have committed these crimes have not been held accountable," she said.
Murad insisted that the Muslim community needs to be the first to stand up against IS and show the world that it denounces terrorism.
"What has been happening has been happening under the name of Islam. The Muslims must be the first ones to resist this. ... We have not seen that Daesh have been labeled as an infidel group within Islam by any Muslim country," she said, using a different name for IS.
The human rights activist said in her speech that she hopes the world will learn from the atrocities being carried out against Yazidis and Christians.
"Learn from the Yazidis experience. Come to us, sit with us, let us teach you what this is like. Visit our people, face and hug our orphaned children, see our unprotected mass graves, view our ravaged farms and hill tops. Please bring your powers to help, to heal, to solve. Come share our tears. Our crisis is your crisis," she said, as reported by Rudaw.net.
While the Obama's administration continues to carry out airstrikes against IS in Syria, it has rejected calls to send additional combat troops into the region.
In his speech last week following the Orlando shooting, Obama insisted that the U.S. is winning the war against the terror group.
"Our mission is to destroy ISIL. Since I last updated the American people on our campaign two months ago, we've seen that this continues to be a difficult fight, but we are making significant progress," he said.
"So far, we've taken out more than 120 top ISIL leaders and commanders. And our message is clear: If you target America and our allies, you will not be safe. You will never be safe."