ISIS Jihadist Group Orders Shopkeepers in Mosul to Cover Mannequins With Veils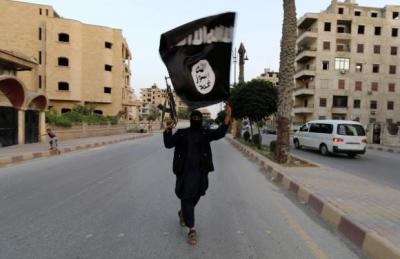 Members of a militant Islamic group is demanding shopkeepers to cover their store mannequins with full-face veils to abide by the strict Islamic teaching regarding the human form.
Local residents of Mosul, Iraq's second largest city, have told international media outlets that members of the Islamic State of Iraq and the Levant (ISIS), now called the Islamic State, have demanded local shopkeepers to cover both male and female mannequins with veils. This mandate coincides with a strict interpretation of Shariah law that forbids artwork and statues depicting the human form.
Photographs taken by the Associated Press indicate that local shopkeepers have heeded the ISIS's demands, covering mannequins with black, sheer veils tied around their necks.
A representative with the United Nations also announced Thursday that the ISIS had also ordered women in Mosul and the surrounding areas to undergo female circumcision, a claim denied by the militant group as being false.
"This is something very new for Iraq, particularly in this area, and is of grave concern and does need to be addressed," U.N. representative Jaqueline Badcock said in a recent news conference, according to Al Jazeera news. "This is not the will of Iraqi people, or the women of Iraq in these vulnerable areas covered by the terrorists."
Critics on social media have argued that reports of female circumscision are false and outdated, and a U.N. spokesman from Geneva told The Guardian that the report will be clarified and facts will be checked for authenticity.
As The Telegraph reports, the ISIS is responsible for setting a number of new rules and taxes on the town of Mosul, the second largest city in Iraq. The jihadist group has also forced the majority of Christians to leave the historically rich town after issuing a mandate that all non-Muslims either convert, pay a non-Muslim "Jizyah" tax, or die.
Additionally, since invading Mosul last month, the ISIS has put stricter levies on trucks carrying goods into the city, charging large trucks $400, while even cars carrying goods are charged $50.
Ahmed Younis, a Baghdad-based expert on armed groups, told the media outlet that ISIS's implementation of various taxes and regulations allows them to establish an economic state that could become quite powerful, given their growing control over infrastructure and resources in the country.
Younis predicts that due to the Islamic State's control in Iraq and its growing control in Syria, the jihadist group could "transform into an economic giant with assets of billions of dollars."
"In future, will they buy shares? Everything is possible," Younis added.
As the ISIS's broadens its control of Mosul, Christians are fleeing for safer cities in the north controlled by Kurdish forces. Residents in Mosul have estimated that following the ISIS takeover last month, only 200 Christians out of 5,000 remain in the country' second largest city.