ISIS Leaves Behind Massive Hole Filled With Blood After Killing 33 Youth in Desert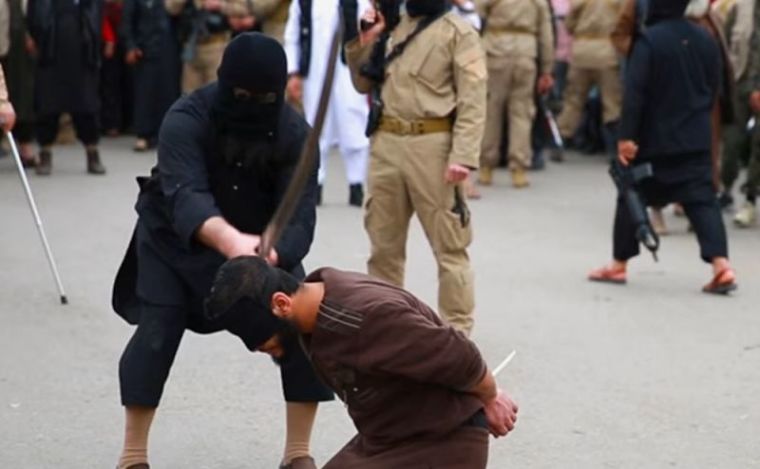 The Islamic State terror group has killed 33 young people, aged between 18 to 25, in the al-Mayadin desert near Deir ez-Zo in Syria, just a day after releasing its first message to U.S. President Donald Trump.
The Syrian Observatory for Human Rights reported on Wednesday that IS used "sharp tools" when carrying out the slaughter, though not much is known about the victims, other than their ages.
SOHR, which has been reporting on the ongoing civil war in Syria, including IS' terror attacks, explained that "the marks of the slaughter appeared on their necks, where the mass slaughter was carried out on the outskirts of a hole dug by the organization, and was filled with blood."
The human rights group reports that the victims were not beheaded, referring to the gruesome style of execution that IS has employed numerous times in the past throughout its captured territory in Iraq and Syria.
The watchdog group said that the slaughter is so far the largest of its kind carried out by IS in 2017.
It comes after Reuters reports that IS killed another 31 people and wounded 40 in overnight attacks on the city of Tikrit, central Iraq. Security forces and medics said the radicals disguised themselves in police uniforms to enter the city, with a total of 10 militants, including two suicide bombers, carrying out the massacre.
Fourteen police officers were among the casualties in Tirkit, a doctor at the city's main hospital revealed. The city has been heavily targeted by the terror group before, and for a period of time held control of the region, before it was driven out by local forces.
IS has been trying to keep a hold of its self-proclaimed Caliphate, though it has been losing territory over the past year due to advancements made by local ground troops, and support from U.S.-led coalition air power.
CNN reported that IS released its first ever message directed at President Trump on Tuesday, accusing him of waging a war against Muslims.
"You (America) are bankrupt and the signs of your demise are evident to every eye," IS spokesman Abu Hasan al-Muhajir says in the 37-minute message.
"There is no clearer sign of you being ruled by a foolish idiot who does not know what Levant or Iraq or Islam is, who continue(s) his hallucination to express his animosity and war against it (Islam)."
Reuters posted further translations of IS' hostile message, which continues: ""Die of spite America, die of spite, a nation where both young and old are racing to die in the name of God will not be defeated."
Trump has vowed to defeat the radical jihadist group, and is hoping that coalition troops reclaiming the city of Mosul will deliver a major blow to IS' hold of Iraq.
IS also appeared to threaten Trump with an assassination attempt in a video it released in December when the billionaire businessman was still president-elect and had not yet been sworn in.