ISIS Militant Who Sold Yazidi Girls as Sex Slaves Reportedly Killed in US Airstrike; Families Buying Back Girls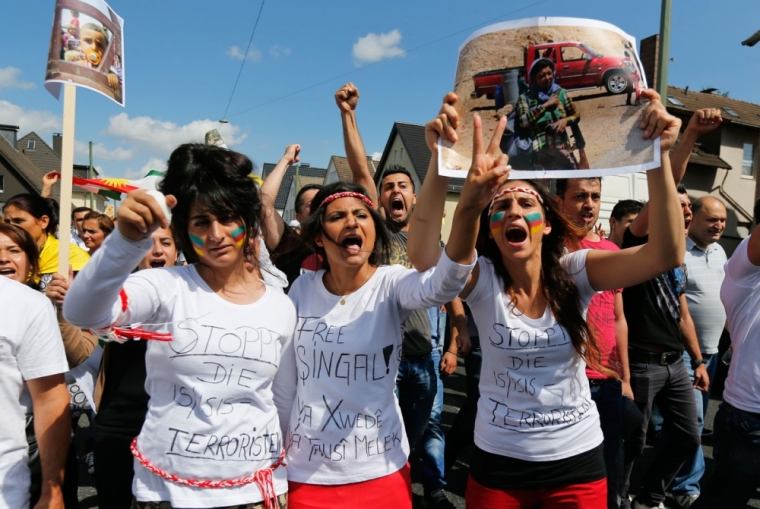 A militant of the Islamic State terror group who sold kidnapped Yazidi girls in a slave market in Syria has reportedly been killed along with 34 other ISIS fighters in a U.S.-led airstrike in Mosul in northern Iraq.
Mustafa Sulaiman Qarabash, also known as Abu Husam al-Iraqi and who is responsible for selling kidnapped Yazidi girls, is said to have been killed near the al-Faruq mosque in Tal Afar close to the Syrian border, reported Rudaw, a Kurdish media network, attributing it to Kurdish official sources.
Husam was among 35 ISIS armed men who were killed, and their base destroyed, in airstrikes on ISIS positions near Gayara, it added.
About 5,000 Yazidi girls and women were taken captive by ISIS to be sold or given to fighters as slaves in August, according to estimates.
ISIS, also known as ISIL, is an al-Qaeda offshoot that has gained control of large swathes of territories in Iraq and Syria. It wants to form an Islamic emirate in the Levant region through "jihad." The U.S.-led coalition has been conducting airstrikes on ISIS positions in Iraq and Syria since August.
Meanwhile, nearly 150 of the kidnapped girls have come back to their families in Kurdish-controlled areas recently after families paid almost their one year's income to buy them back, according to International Business Times.
A 15-year-old girl, Sabreen, told the Christian Science Monitor that she and many others were taken to a school in Tel Afar. "Lots of men used to come and look around and when they would see a girl they liked they would say 'I want to buy that one,'" she was quoted as saying. "There was an emir who was taking money for the girls – $1,000 to $1,500."
Many of the girls are still living in areas of northern or western Iraq under the control of the ISIS, while many others have been sent to Syria or other countries, victims and their advocates told The New York Times.
There are about 600,000 people from the Yazidi minority in Iraq, who consider themselves to be Kurds ethnically and live mostly in north-central Ninevah province and northeastern Iraqi Kurdistan.
Yazidis believe that God governs the world through seven angels with "Malak Tawous," or Peacock Angel, as the leader, who disobeyed God's command to bow down to humanity but was forgiven and made the head angel due to his devotion. Therefore, Yazidis are accused of worshipping the Devil, or Satan, as the leader angel resembles Satan in Abrahamic texts.
In its English propaganda publication, the Sunni terror group recently sought to justify its barbarity, saying it is "Islamic" to capture and forcibly make "infidel" women sexual slaves.
"Before Shaytan [Satan] reveals his doubts to the weak-minded and weak hearted, one should remember that enslaving the families of the kuffar [infidels] and taking their women as concubines is a firmly established aspect of the Shari'ah that if one were to deny or mock, he would be denying or mocking the verses of the Qur'an and the narration of the Prophet … and thereby apostatizing from Islam," stated the ISIS' glossy propaganda magazine "Dabiq," named after a site in Muslim apocalypse mythology.
"Dabiq" bills itself as "a periodical magazine focusing on the issues of tawhid (unity), manhaj (truth-seeking), hijrah (migration), jihad (holy war) and jama'ah (community)," according to the Washington, D.C.-based The Clarion Project.
The terror group stated the reasons for sexual slavery in an article titled, "The revival of slavery before the Hour," referring to Judgment Day.