ISIS Militants Are Already Getting Their Hands on Recently Supplied US Weapons in Iraq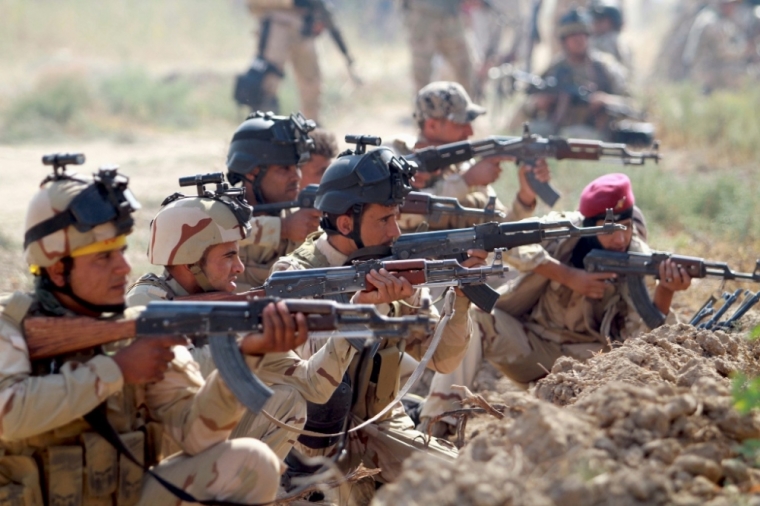 Weapons recently supplied by the United States to Iraqi military forces and tribal militias are already ending up in the hands of Islamic State militants, Iraqi officers and lawmakers are claiming.
As the Pentagon requests $1.3 billion in 2015 to provide weapons to the Iraqi military and tribal forces to help them defeat the Islamic State terrorist organization, Iraqi lawmakers, officers and soldiers recently told The New York Times that corruption has run rampant among Iraq's military leadership and because of it, some of the "recently" supplied U.S. weapons have been sold on the black market to Islamic State fighters.
"I told the Americans, don't give any weapons through the army, not even one piece, because corruption is everywhere, and you will not see any of it," asserted Col. Shaaban al-Obeidi of the internal security forces, who is also a leader of a Sunni tribe on Anbar Province. "Our people will steal it."
Obeidi and other Iraqi soldiers have alleged that many of Iraq's military leaders have taken benefits from the savings made off from purchasing cheap low-quality weapons. Additionally, military leaders are conservatively rationing weaponry and ammunition among the troops and are profiting off of the sales from the leftover weapons.
"If each soldier is supposed to get 100 bullets, he will only get 50, and the officer will take and sell the rest," Obeidi said.
Considering that all the U.S. weapons intended to go to Iraq's Sunni tribal opposition fighting ISIS has to be funneled through the Shiite-controlled Iraqi government in Baghdad, tribal militia leaders are calling for the United States to deliver arms to them directly.
Iraqi government officials maintain that if the United States delivers arms directly to the tribal groups it would violate Iraq's state sovereignty. For 2015, the Pentagon has requested $24.1 million to provide weapons specifically to the tribal forces.
In addition to receiving payoffs from the surplus and taking kickbacks from the savings on cheap weapons, Iraqi commanders have also sold off other military provisions. An Iraqi commander, notoriously known by Iraqi troops as the "chicken guy," would allegedly sell off his troops' chicken provisions. Another well-known commander among the ranks known by his nickname "General Deftar" became well known for selling off officer commissions.
Additionally, Iraqi commanders have also covered up for the absence of soldiers who are no longer present in the military ranks (ghost soldiers) in order for them to collect the absent soldiers' wages.
A former Iraqi lawmaker, Mohammed Othman al-Khalidi, told Al Monitor that an estimated 30 percent of Iraqi's enlisted army was, at one point, technically ghost soldiers. He further added that "ghost soldiers" were major reason for the Iraqi military's failure to stop the spread of the Islamic State over the summer.
"The ghost employees were one of the reasons behind the shocking collapse of the Iraqi army before the Islamic State in Mosul," al-Khalidi said.
Although there are over 3,000 U.S. advisers currently working in Iraq, their job is not to fix the Iraqi military's corruption.
"Reducing corruption is not part of the advisers' role and there is no reason to believe that that advisers presence will reduce corruption," one unidentified U.S. official involved in Iraq told the Times.
In an attempt to eliminate corruption and increase accountability, Iraqi Prime Minister Haidar al-Abadi announced on Nov. 12 that he displaced 36 military commanders whom he accused of corruption. The prime minister dismissed 26 of the military officers and sent 10 more into forced retirement. Among those commanders removed by Abadi were the "chicken guy" and "General Deftar."
According to Agence France Presse, Abadi named 18 new commanders in a movement he claims will try to "reinforce the military along professional lines and fight all forms of corruption."
Although Abadi got rid of three dozen commanders whom he viewed as being the cause of the corruption problem, many Iraqi lawmakers are saying that corruption has become systemic among military leadership.
"Only a few of the top officers have no corruption," Iraqi Shiite lawmaker Amer Tau'ma, who is on the country's defense committee, said.
Sunni lawmaker Talal al-Zubai, who sits on Iraq's government-ethics committee, said the practices of purchasing officer titles and funneling money from inflated payrolls has become a "continuous phenomenon" and that simply dismissing the generals was not enough to stop the corruption.
"They should be executed; they destroyed Iraq," al-Zubai said. "For the American advisers, there is no chance their mission will succeed with lying Iraqi commanders."