ISIS Releases Propaganda Video Showing Young Boy Executing 2 Russian Spies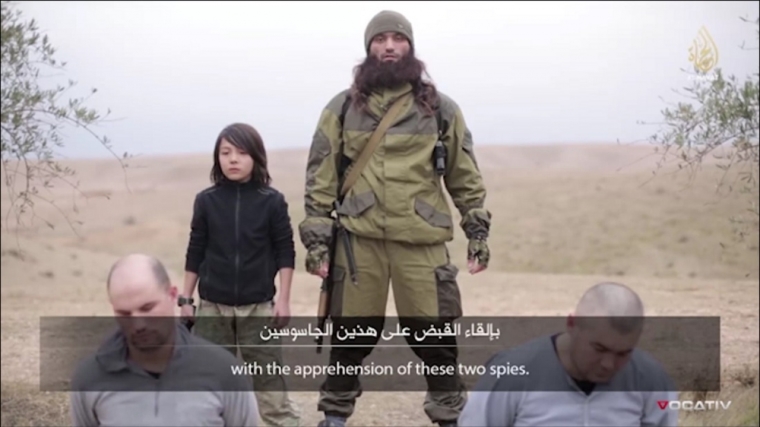 Terror group ISIS has released a video that shows a young boy executing two men with a gun that are said to be Russian spies.
The video has made the rounds on social media and has been re-posted by a number of media outlets, ABC News said. The footage apparently shows the young boy firing a gun directly at the two men, who are kneeling on the ground with hands tied behind their backs, after which they fall lifeless.
ISIS is known for running several training camps for children in Syria and Iraq, where those who've escaped have shared how boys as young as 10 years old are trained to use rifles to kill people.
An anonymous U.S. government official noted that while the latest propaganda video by ISIS could have been staged, the murders appear to be real enough.
The Russian government has not yet commented on the possible identifies of the two men, which the video claims were spies working for Russian intelligence.
"By Allah's grace, they are now in custody of the lion cubs of Khilafah," the video states.
The propaganda piece says that ISIS' soldiers have "an unyielding fervor to inflict death upon the enemies of Allah."
Charlie Winter at the Quilliam Foundation said that videos like this are done for "shock value," Vocativ reported.
"ISIS is trying to drum up as much of a reputation for itself as it can get, so it can surpass groups like al Qaeda as the new global jihadist entity that everyone thinks of when there's an attack."
As for ISIS training camps for children, Winter suggested that they are used heavily as indoctrination centers as well.
"They're (children) given a very narrow view of the world, which they are completely committed to. They're given a jihadist view of what Islam is, as opposed to any other view."
Back in December, a number of photos from the training camps were released to the media, showing children performing military drills and marching before ISIS' black flag.
ISIS has reportedly executed children that have refused to join its cause. The Rev. Canon Andrew White, the vicar of Baghdad, revealed in a separate report in December that four Iraqi Christian children were beheaded by the jihadists for refusing to renounce Jesus and follow Muhammad.
"[The Militants] said, 'say the words!' [The Children] said, 'no, we can't do that.' They chopped all their heads off," White said.