ISIS Wives Jealous of Sex Slaves; Husbands Buy Virgins for $10K on Apps, Rape 9-Y-O Girls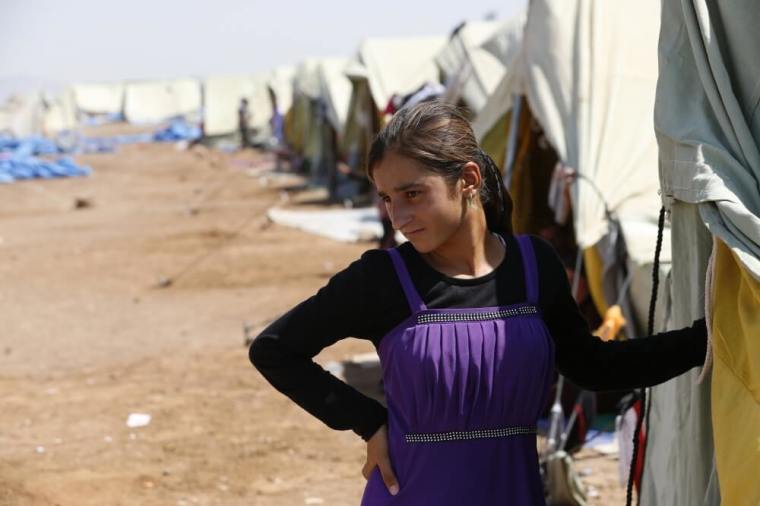 Seven women who lived as wives to Islamic State fighters in Syria have opened up about their husbands' barbaric practices, such as purchasing virgins on sex slave apps and raping girls as young as 9 years old.
The women were caught trying to cross the border into Turkey, and are now being held at a displacement camp for women in Northern Syria, MailOnline reported on Sunday.
The women told a journalist from Arabic TV that the extremists were paying up to $10,000 for virgin sex slaves on apps, where they also shared pictures of victimized women and girls in make-up.
One of the wives, who is from Lebanon, said that the prices ranged from $2,000 to $10,000 for a virgin.
"There was a lot of tension between the wives and the sex slaves," the woman explained. "Some of the wives even divorced their husbands because of that. They were spending too much on the sex slaves, buying them the best make-up, clothes and accessories."
Some of the other wives said that IS leader Abu Bakr al-Baghdadi has as many as four wives and 15 sex slaves.
The captured wives denied that the sex slaves were kept in their home, and said that they tried to help some of the victims escape — not because they were truly concerned for them, but because they were jealous that their husbands were raping them.
The women reportedly all said that they knew of 9-year-old girls that were being raped by the Islamic extremists.
They also admitted that some of their husbands beheaded victims, but denied any involvement, claiming that their only role was to sit at home and look after the children.
The wives' fate now remains uncertain. A Tunisian woman with a baby stated:
"I don't have control of my future. I live like a shadow."
Others who have escaped IS captivity, such as a teenage boy in Iraq, have revealed that sex slave captives do all they can to try and get away from the terrorists.
"The girls were covering their faces with dirt, trying to make themselves less beautiful. But if they were caught doing that they were beaten. They were all beaten and taken away. ISIS beat us too," 15-year-old Ahmed Amin Koro told Fox News in June 2016.
The teenage boy revealed at the time that jihadists would take children before sunrise each morning, forcing them to recite Islamic prayers; feeding them only with scraps, and giving them contaminated water to wash with.
Koro shared one story of a mother begging the terrorists to spare her young daughter from being sold as a sex slave, but was shown no mercy.
"The mom cried that her little girl was too young and she didn't know anything about marriage or sex, but they didn't care and took her anyway," the Yazidi boy said.