Islamic Gunmen Storm Church Sunday Service, Kill 22 Christians as Scores Murdered By Terrorists Across Nigeria
Islamic Gunmen Storm Church Sunday Service, Kill 22 Christians as Scores Murdered By Terrorists Across Nigeria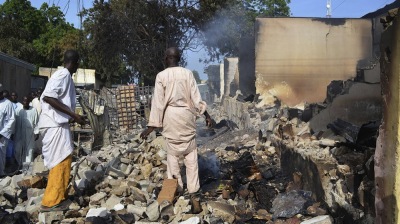 Twenty-two Nigerian Christians were killed in an attack after gunmen entered a church service armed with weapons and explosives on Sunday.
Boko Haram, a Nigerian Islamic terrorist group seeking to eradicate Christianity from the African country and spread Muslim Shariah law, has been blamed for the mass shooting in the village of Waga Chakawa in Adamawa state, and also for violence that killed 52 people in Borno state at the weekend, the BBC has reported.
Terrorists reportedly attacked the village of Kawuri and detonated explosives while merchants were shutting down the crowded market. They also set alight to the homes of residents in the town, with residents still inside many of the houses.
Ari Kolomi, who fled his home in Kawuri to Maiduguri, the Borno state capital, described the destruction left by the group as devastating.
"No house was left standing ...The gunmen were more than 50; they were using explosives and heavy-sounding guns," Kolomi told the Associated Press, adding that he was unsure if any of his relatives had made it out of the village alive.
The majority of Nigeria's Christians live in the southern part of the country, while the north is a predominantly Muslim region. Christians living in Yobe, Borno and Adamawa, the country's three north-eastern states and also the regions where Boko Haram is most active, are particularly vulnerable to violence.
In May 2013, the Nigerian government ordered emergency rule for all three states with the hopes of better cracking down on the terrorist organization. Yet it is questionable whether the law has mitigated the violence. Since May, more than 1,200 people have been killed from fighting related to Boko Haram and Fulani herdsman.
The ethnic Fulani herdsmen, some of whom come from outside the country, have been accused of colluding with Boko Haram, which also has ties to Al-Qaeda. The groups have used bombings, mass shootings and kidnappings in order to terrorize the Christian communities and drive them out of their homes.
According to Ann Bulwalda, the executive director of the Jubilee campaign: "Approximately 60 percent of the world's Christians that were killed for their faith [in 2013 were] in Northern Nigeria."
In an op-ed for the Wall Street Journal last week, Orji Uzor Kalu, the former governor of Abia state, said fighting against Boko Haram was not only in the best interests of Nigerian Christians, but also should be a subject of international concern.
"As the world globalizes, jihadist factions such as Boko Haram align in-kind and gain both the intelligence and the capacity to strike in increasingly urban centers and beyond national borders," Kalu wrote. "We must make no mistake: This destabilizing network is a global problem, larger in scope and indeed in mission than the international community may presume. It is not just going to go away."
In 2013, the U.S. government officially designated Boko Haram a terrorist organization.