Israel, Gaza Trade Fire After Ceasefire; Israeli Official Says Won't Negotiate Until Hamas Stops Unleashing Missiles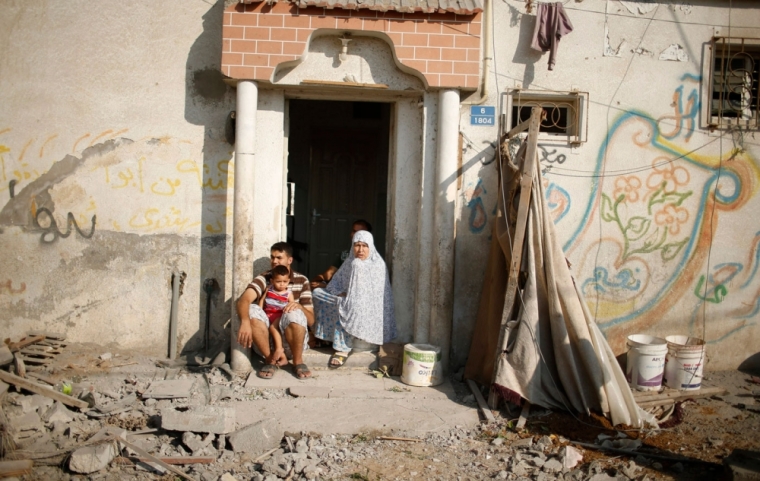 As talks to extend the 72-hour ceasefire stalled, Israeli soldiers said they hit dozens of Hamas sites in response to more than 57 rockets that were fired from the Gaza Strip since the truce ended Friday morning.
Three Palestinians were killed in an attack on a mosque, two others travelling on a motorcycle died when they were struck by a bomb and two more were shot dead by soldiers, according to Sky News. Those killed included a 10-year-old Palestinian boy in Gaza City.
Israel says Hamas fired at least 57 rockets into southern Israel on Friday and the "Iron Dome" interceptor system was used against some of them, according to Reuters, which said at least two Israelis were injured by mortar fire from Gaza.
Israel, which said some of the rockets were fired hours before the ceasefire was due to end at 8 a.m. Friday local time, responded to the Palestinian rockets by targeting 51 "terror sites" across the Gaza Strip.
Since Israel began its attack in Gaza on July 8 following an increase in cross-border rocket strikes by Hamas militants, nearly 1,900 Palestinians have died in the fighting. At least 1,354 of those killed have been civilians, according to the United Nations. In Israel, 64 soldiers and three civilians have died.
As Egyptian-mediated talks failed to extend the truce, an Israeli official said negotiations with Palestinians can happen only after militants stop unleashing missiles.
Hamas spokesman Sami Abu Zuhri was quoted as saying that Israel had rejected most Palestinian demands.
While Amnesty International earlier claimed that Israel's military forces targeted hospitals and other civilian areas, Israeli government spokesman Mark Regev told Sky News Friday that Israel doesn't target hospitals and civilians.
"What we've had to do on a number of occasions is to hit terrorist targets in the immediate vicinity of hospitals and things like that, where they've abused them," Regev said. "And what you've seen is there's a whole series of reports coming out of Gaza from journalists across the planet – not Israeli journalists, Canadians, Finns, Indian journalists and others – who have all reported that Hamas has got this systematic pattern of behavior where they deliberately abuse humanitarian structures to shoot their rockets at Israel."
U.N. Secretary-General Ban Ki-moon said Friday he is disappointed that the ceasefire could not be extended. "The Secretary-General firmly calls on the parties not to resort to further military action that can only exacerbate the already appalling humanitarian situation in Gaza," his office said in a statement.
Israel has said it is targeting terror tunnels and other targets that pose a direct threat to its people. The Israeli military has identified at least 32 fortified tunnels, and 11 run of them are deep beneath the border and lead into Israel's territory. It has also blamed Hamas for the civilian casualties, saying that the militants are using people as human shields.
Israel withdrew most of its ground troops from Gaza last week, and a military spokesperson said, "We've caused substantial damage to this network to an extent where we've basically taken this huge threat and made it minimal."
Earlier this month, the U.S. Senate as well as the House approved a $225-million support for Israel's Iron Dome missile defense system.