Church Where Jesus Fed the 5,000 Burned in Arson Attack; Anti-Christian Graffiti Calls for 'False Gods' to Be 'Eliminated'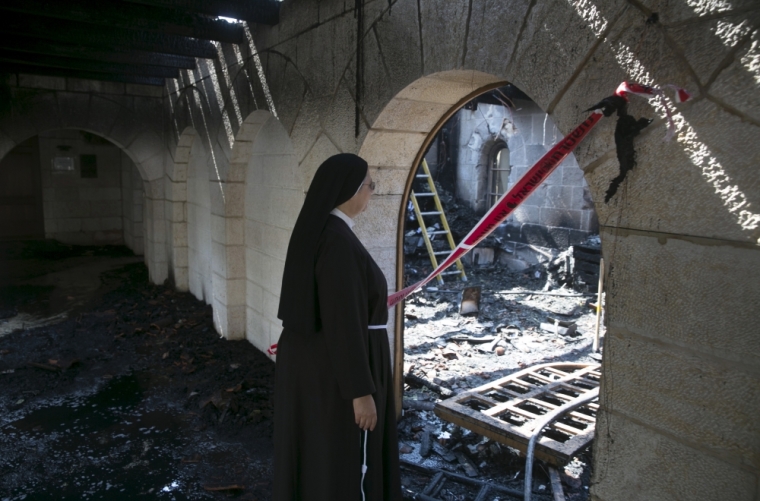 The Church of the Multiplication of the Loaves and Fishes at Tabgha, located on the shores of the Sea of Galilee where Jesus is believed to have fed the 5,000, has been burned in an arson attack that occurred Wednesday night. Anti-Christian graffiti was marked at the site, with the words "May the false gods be eliminated" written in Hebrew reportedly found at the entrance.
Breaking Israel News said that two people suffered minor smoke inhalation while trying to control the fire, with firefighters called to the scene shortly after 4 a.m. local time on Thursday. Aided by volunteers, they managed successfully to put out the fire, which was started on the rooftop.
While the sanctuary of the church did not suffer much damage, the arson attack affected more heavily a number of offices, a storage room of books and an event hall. Wadia Abu Nasser, the Catholic Church's media adviser in Israel, estimated that the cost of repairs will be in the "millions," but said that "the emotional damage is worse."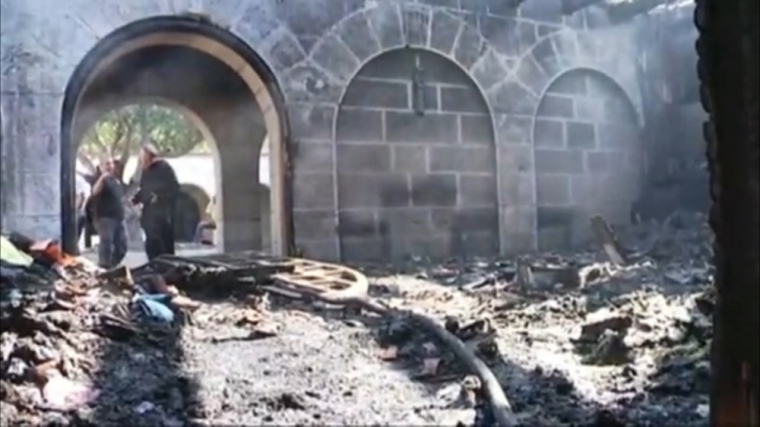 Lt. Shadi Halul, head of the Christian IDF Officers Forum, told Israel Army Radio that even if it is proven that right-wing Jewish extremists are responsible for the attack, it would be wrong to attach the blame to all Jewish people.
"If in this case Jewish zealots are fingered, then, first of all, they clearly don't represent all the Jews. They're criminals who should be in prison and not walking around freely," Halul said.
"If they think this is how they can help themselves and strengthen their own beliefs then I just want to say, it only damages their beliefs and damages their justice, and the justification for their being here in this land."
The Telegraph added that Israeli Prime Minister Benjamin Netanyahu has enlisted the country's domestic intelligence chief to investigate the attack.
"This outrageous arson attack against the church is an attack on all of us," Netanyahu said, promising that the perpetrators will be brought to justice.
Matthew Gould, the British ambassador to Israel, added that the attack is "a disgusting act of disrespect at one of Christianity's holiest sites."
The Church of the Multiplication of the Loaves and Fishes was built in the 1980s, and sits on the site of fourth and fifth century shrines that are believed to commemorate the location of one of Jesus' most well-known miracles.
Matthias Carl Benedictina, one of the church's priests, noted that this was not the only attack against Christianity in the region. He revealed that there have been over 50 acts of violence against Christian institutions by extremist groups in Israel in the past three years, sometimes targeting cemeteries and other Christian property.