Jackie Hill Perry warns Satan trying to destroy 'entire generation of Christians with witchcraft'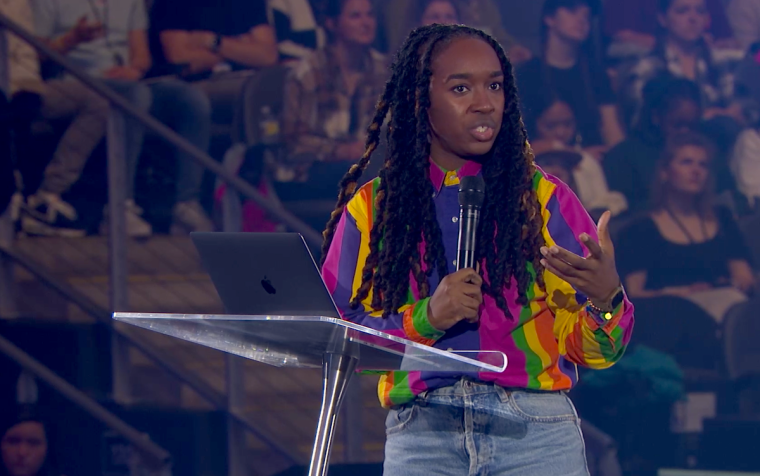 Christian author Jackie Hill Perry said Wednesday that too many churches are giving Satan room to "destroy" and leading a generation of Christians to be more comfortable engaging with elements of "witchcraft" rather than engaging with the true power of the Holy Spirit. 
The 33-year-old ex-lesbian rapper, author, poet and Bible preacher was among many prominent Christian speakers who spoke at Passion 2023 conference in Atlanta this week. She warned that if ministry leaders don't lean on the Holy Spirit and the move of God, their ministry becomes ineffective.
Perry told the thousands gathered for the three-day event held from Tuesday to Thursday that churches failing to acknowledge the power of the Holy Spirit can prevent Christians from being transformed through deliverance.   
"The enemy is trying to destroy an entire generation of Christians with witchcraft. He wants us to consider alternative sources of power for joy, for peace [and] for a right mind," Perry warned midway through her sermon. 
"I think some of the blame for that is the Church because we have been raised in churches that are more afraid of the Holy Spirit than they are of Harry Potter." 
The Gay Girl Good God author suggested some Christians are "confused" because they don't know how to approach the spiritual realm properly.  
"I see why you're confused because you've seen people exegesis with the Spirit but not exercise with the Spirit. You've seen things in your room at night. You've seen things manifest in people. But, everyone explains it away as if we are not in a world with demons, in churches with demons, in conversations with people full of demons, including pastors," Perry said. 
Perry said a significant issue is that the prophets have been silenced within some churches.
"And so you get on TikTok, and you see [things such as] a psychic tell you that she could tell you your future," she said, pointing out one way many Christians are deceived today. 
"It's because they've muted the prophets in the Church. So you're going to the devil seeers instead of the Lord."
"If God is the one who was and who is to come, that means He is already in the future now. So you don't need psychics full of a limited understanding of the future. You need the Lord. … Don't play with the devil."
She stated that the Lord gave the Church authority to "trample over serpents, not to submit to them."
"If God is with you, so is His power. There is power in God's presence," she said.
Perry said that if church leaders continue to tiptoe around the power of the Holy Spirit, Christians may start to turn toward worldly things.  
"I think we are tempted to draw power from some other sources than God as a means of creating what looks like ministry. … When in fact, it was just manipulation bordering on witchcraft," Perry preached. 
"A good sermon isn't powerful if the Spirit doesn't move. Good worship isn't powerful if the Spirit doesn't move. Yeah, they cry. Yeah, they lifted their hands, but were they delivered? Were they changed? Were they set free? Is their mind new or was it a motion?"  
Everyone needs the Holy Spirit's "power," Perry said, and God's Spirit is ready and available for all Christians if they trust "that they do" have God's presence.
"The effectiveness of your ministry is wholly dependent on God. And if it's wholly dependent on God, that means you need to be more dependent on God. … We have folks who are Ph.D.s from seminary and second graders in prayer. …  God is with you. The good news is that you don't have to go too far to find Him," Perry said.
The speaker stressed that for revival to be successful, God needs to move for people to respond. 
"Conversion is a work of the Holy Spirit. Sanctification is a work of the Holy Spirit, spiritual understanding and the opening of the mind to understand Scripture … is a work of the Holy Spirit," Perry continued.  
"It does not matter how clever you are, how winsome you are, how interesting you are, or even how intellectual you are. … All of those are useful insofar as the Holy Spirit moves. If God doesn't move, people will not respond."
The Passion movement was launched in 1995 by Pastor Louie Giglio. This year's conference featured several Christian thought leaders and pastors, including Tim Tebow, Sadie Robertson, Christine Caine and others. 
Passion movement's ministry statement declares: "For us, what matters most is the name and renown of Jesus. We believe in this generation and are watching God use them to change the climate of faith around the globe."