Jailed for Jesus: Kentucky Clerk Sent to the Slammer for Refusing to Issue Marriage Licenses to Gay Couples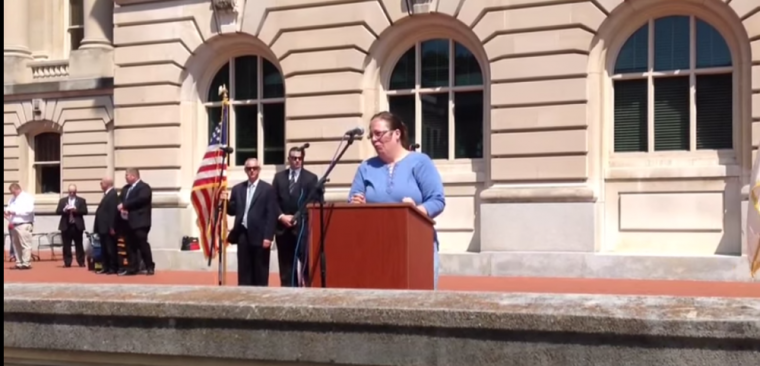 A county clerk in Kentucky has been found guilty of contempt and sent to jail for refusing to issue marriage licenses to same-sex couples due to her own religious objections.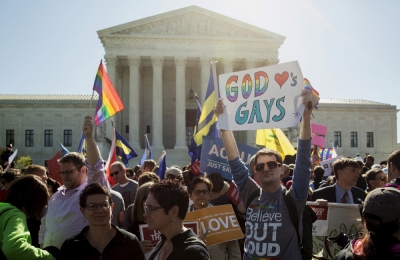 Kim Davis, the clerk at Rowan County who garnered national attention for refusing to issue the marriage licenses, was found in contempt of court Thursday by U.S. District Court Judge David Bunning.
Bunning chose a prison sentence over a fine because he believed Davis, who makes $80,000 per year, would not comply with his order if given a fine, reported USA Today.
Bunning added that Davis will be released from prison once she has agreed to comply with the court order and proceed to issue marriage licenses.
Around one hundred protestors representing both sides of the marriage definition debate crowded outside the Ashland courthouse.
On June 26, the U.S. Supreme Court ruled 5-4 in Obergefell v. Hodges that state level bans on gay marriage violated the Fourteenth Amendment of the U.S. Constitution.
Obergefell was the culmination of over a year of judicial rulings that struck down several state constitutional amendments passed by popular referenda.
Since the Supreme Court's decision, many county clerks across the nation have either refused to issue marriage licenses to gay couples or resigned from their posts.
In July, Davis refused to follow an order from the U.S. District Court for the Eastern District of Kentucky demanding that she issue marriage licenses to gay couples.
During the appeals process for the legal action against her, Davis was eventually given a stay on the decision that expired on Monday. An attempt to appeal to the U.S. Supreme Court failed.
"To issue a marriage license which conflicts with God's definition of marriage, with my name affixed to the certificate, would violate my conscience," stated Davis on Tuesday.
"It is not a light issue for me. It is a Heaven or Hell decision. For me it is a decision of obedience. I have no animosity toward anyone and harbor no ill will. To me this has never been a gay or lesbian issue. It is about marriage and God's Word."