James Dobson, Franklin Graham Praise Roy Moore Ahead of Alabama's Senate Runoff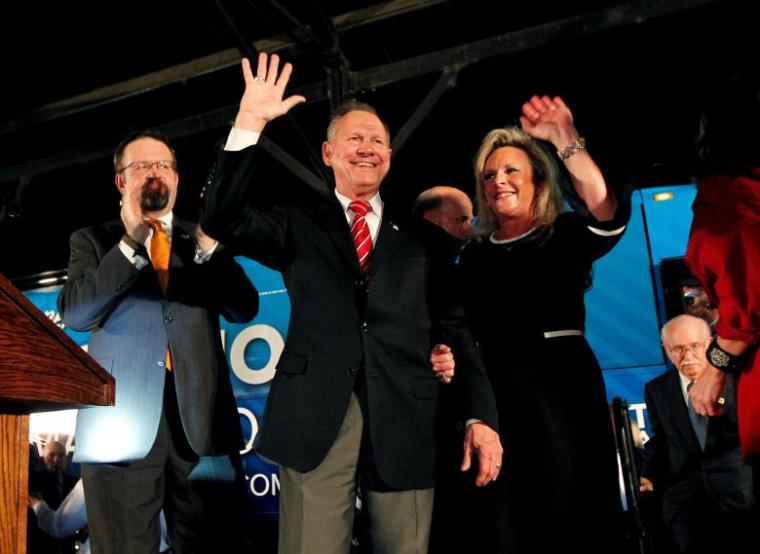 Two prominent evangelical Christians are praising controversial former chief justice, Roy Moore, ahead of Alabama's Republican Senate primary runoff this Tuesday.
Focus on the Family founder James Dobson, leading evangelist Franklin Graham and other prominent social conservatives have issued their praises of the the 70-year-old Moore, who is challenging incumbent Republican Sen. Luther Strange for the seat that was once held by current U.S. Attorney Gen. Jeff Sessions before his confirmation earlier this year.
Moore, who has gained national notoriety on different occasions during his time as the chief justice of the Alabama Supreme Court, came under fire in 2016 for instructing Alabama courts to refrain from issuing gay marriage licenses, an act of defiance against the U.S. Supreme Court's 2015 ruling in Obergefell v. Hodges.
Moore was suspended from his position last September and resigned this April when he announced that he was running for Senate.
"It is my distinct honor to endorse Judge Roy Moore for the United States Senate," the 81-year-old Dobson said in a statement shared with The Christian Post, adding that the endorsement is personal and not on behalf of any of the organizations he is affiliated with. "I urge the people of Alabama to rally behind a righteous and upright man who will bring leadership, integrity and strong conservative values to Washington D.C."
Dobson explained that he has known Moore for over 15 years and considers him a "friend."
"I can personally attest to his impeccable character as well as his sincere Christian faith," Dobson added. "Throughout his career, Judge Moore has been a tireless champion of religious liberty, standing down those who want nothing less than to rid our nation of its Judeo-Christian foundations."
"Shirley and I watched with admiration when in 1997 he fought to preserve the right to pray in court at the beginning of each session — just as the Senate does to this day," Dobson continued. "Then again in 2003 when he fought bravely against a federal district judge who directed the removal of a two-and-a-half ton Ten Commandments monument from the rotunda of the State Judicial Center."
Dobson noted that on "each occasion, and on a hundred others," Alabama citizens "rallied behind Judge Moore's leadership in the public square."
"Judge Moore has also proven, time and again, that he is a true champion of the Constitution and a defender of the lives of the unborn," Dobson added.
Graham, president of the Billy Graham Evangelistic Association and son of Billy Graham, took to his Facebook page on Thursday to say that Moore has "guts" and to share a picture of a meeting between him and Moore that was taken last year.
"I met Judge Roy Moore last year when I held a prayer rally at the capitol in Alabama. I admire the fact that he's got guts. Over the years he has been suspended for standing for his faith," Graham explained. "He's one of the few willing to stand firm for truth and against the erosion of Biblical principles. He sets a good example for all of us. God bless him — he and his family have my prayers."
Graham, a North Carolina native, did not make clear whether his Facebook post was an endorsement of Moore in the Senate race. Graham did not provide clarification to The Christian Post by press time.
Last Thursday was not the first time that Graham has praised Moore on social media.
In May, Graham wrote that he appreciates "the fact that [Moore] takes a stand for marriage as God defines it."
"We need more courageous men and women like him who are willing to stand for God's moral laws," Graham wrote in a Facebook post.
"He recently made it clear that, 'My position has always been God first, family then country,'" Graham added. "He's right when he said that we need to get back to the Constitution and its restraints to make this country great again."
Another prominent conservative who is praising Moore is Housing and Urban Development Secretary Dr. Ben Carson. The famed retired neurosurgeon reportedly released a statement on Friday, according to Moore's campaign.
"Judge Moore is a fine man of proven character and integrity, who I have come to respect over the years. I was delighted to hear he is running for the U.S. Senate," Carson was quoted as saying. "He is truly someone who reflects the Judeo-Christian values that were so important to the establishment of our country. It is these values that we must return to in order to make America great again. I wish him well and hope everyone will make sure they vote on Tuesday."