James Holmes Was Demon Possessed, Claims Catholic Priest
James Holmes Was Demon Possessed, Claims Catholic Priest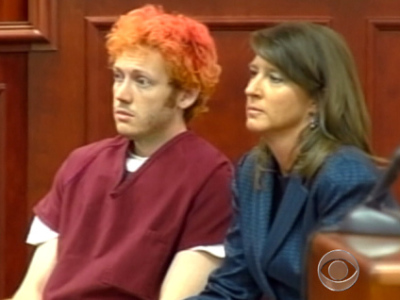 A Catholic priest has suggested that James Holmes was possessed by the devil when he allegedly opened fire on a crowded movie theater in Aurora, Colo., on July 20, killing 12 and injuring 58.
"Was he demon possessed? Maybe. It happens," the Rev. Dwight Longenecker of Greeenville, S.C., wrote in his guest column on faith website Patheos.com.
Longenecker goes on to say that a demonic infestation of the human body is a "strange and terrible psycho-spiritual affliction" in which a "malevolent, separate intelligence infests the mind and spirit of a person." He further explains three levels of demonic possession, which include the temptation to do something radically vile, obsession to commit evil acts, and ultimately infestation, when the malevolent demon spirit enter the body.
"The individual is 'taken over' by the demonic spirit and paranormal phenomena are exhibited," Longenecker writes.
"When the signs of preternatural strength are seen, horrible alien voices come from the person, vile blasphemies are heard and perverted and violent actions are witnessed, one can be fairly sure that a demonic infestation is happening," he continues.
Longenecker concludes his blog by writing "many of these symptoms may also be signs of a deep mental or spiritual illness which is not demonic in origin."
Before allegedly opening fire with four different guns on a midnight viewing of "The Dark Knight Rises," Holmes, 24, dyed his hair bright orange.
When he was arrested near his vehicle in the back of the movie theater, he reportedly told police that he was "the Joker," the villain in DC Comics' "Batman" strips.
While being led to jail, Holmes allegedly spit at police and was constrained with a mouth guard and put in solitary confinement for being unmanageable. Additionally, during his first court hearing on July 23, in which he heard his charges, Holmes acted delusional, nodding his head back and lazily blinking his eyes as if he wasn't playing attention.
Although Longenecker suggests Holmes's strange behavior is due to demonic possession, others suggest it is some sort of psychosis.
Marissa Randazzo, former chief research psychologist for the U.S. Secret Service and an expert in mass shootings, told ABC News that Holmes's confusing court room appearance could be explained by one of two things.
"One is that he is in the middle of a psychotic episode which is quite possible. We see him distracted at multiple points, an almost sort of 'coming to' and trying to figure out where he is and process what's going on," she told ABC News.
"The other thing that we're seeing – and we've seen some of this behavior in the past couple months – might suggest mania. Meaning hyperactivity, hyper energy, been possibly up and not sleeping for days. What we might be seeing here is the post effects," she added.
Others, including former Republican presidential candidate Mike Huckabee, said that America has become more secular and therefore Holmes did not understand the magnitude of the sin he was committing.
Evangelical leader Jerry Newcombe suggested that the attack occurred because Americans have lost a strong grasp on the realities of hell.
Regardless of the theories, Holmes faces 142 criminal counts, including 24 counts of first-degree murder. His next court date is set for Aug. 9.
Who is James Holmes?