'Jane the Virgin' Season 3 Episode 14 Spoilers: It's Jane vs. Petra for Room Mom in 'Chapter Fifty-Eight'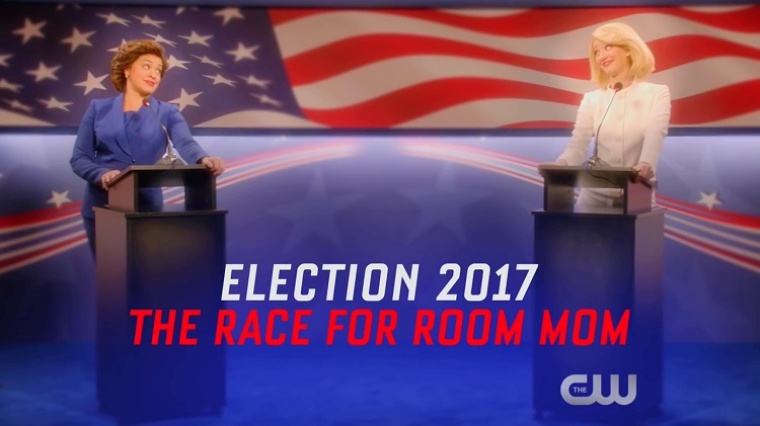 Baby daddy Rafael (Justin Baldoni) is caught between a rock and a hard place in the next episode of "Jane the Virgin."
When Jane (Gina Rodriguez) realized that she hasn't been around for Mateo (Joseph Sanders) as much as she would like, especially at school, she decides to run for Room Mom. And who should be running against her but the perfect school mom, Petra (Yael Grobglas).
Will they be able to keep the competition friendly, or will unforeseen problems appear along the way when their conflicting beliefs and principles are pitted against each other? How will Rafael handle the situation if and when it escalates into something a little more personal?
The official trailer for "Chapter Fifty-Eight" shows Jane and Petra caught in a debate about whether to put sand or rubber mulch under the jungle gym. The setting looks a little fantastical and seems to be a part of Jane's imagination, although it could well reflect a real issue that concerns both campaigning parties. Whose ideas about child-rearing will win over the voting public? Will Petra's good reputation at school give her an edge over Jane, who has hardly participated in school activities?
Other things to look forward to in the next episode are Alba (Ivonne Coll) having a crush, and Jane and Xo's (Andrea Navedo) efforts to help her impress him. However, things do not go as smoothly as they would like to. Will they really be helping Alba meet her crush or will they only be making matters worse?
Meanwhile, following Xo and Bruce's (Ricardo Chavira) recent engagement, Rogelio (Jaime Camil) puts his sly on and tries to get some information from Mateo regarding the newly engaged couple's relationship. He also still has that 10-million dollar lawsuit he hopes to win in court, so he should really be careful about where he treads, lest he ends up upsetting his lawyer, Bruce and most importantly his ex-beau Xo, with whom he has just recently reconciled.
"Jane the Virgin" season 3 episode 14 airs on Monday, March 20, at 9 p.m. EST on The CW.