Jay Z Thanks God for Award, 'Beautiful Light' Beyonce at 56th Grammy Awards
Rapper Jay Z thanked God, as well as "all [of] the universe" while accepting the award for Best Rap/Sung Collaboration for his song "Holy Grail" at the 56th annual Grammy Awards on Sunday night.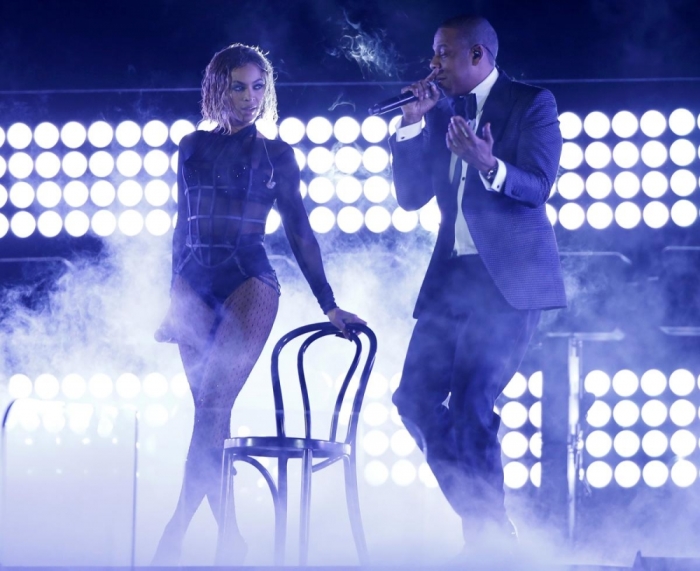 The well-known artist sat comfortably with his wife of six years, Beyonce, in the first few rows of the Staples Center in Los Angeles while actor and singer Jamie Foxx introduced the nominees for the Best Rap/Sung Collaboration award. Jay Z and Beyonce smiled and looked on as Foxx complimented the rapper on the attractiveness of his wife, especially since she recently gave birth to the couple's first child, Blue Ivy.
When Foxx announced Jay Z as the winner of the award, the rapper took the stage and jokingly threw a few fake punches at the presenter, assumingly for the over-the-top flattery he showered on Beyonce moments earlier. Jay Z then proceeded to thank God and "all the universe," both for his award and for the "beautiful light" that is his wife, Beyonce.
"I want to thank God, I mean, a little bit for this award, but also all the universe for conspiring and for putting that beautiful light of a young lady in my life," the rapper said in a heartfelt acceptance speech. Jay Z also referenced his 2-year-old daughter Blue Ivy in the speech by holding up his golden gramophone trophy and saying, "I want to tell Blue, 'Look, Daddy got a gold sippy cup for you!'"
Jay Z and Beyonce performed a risqué version of her hit song "Drunk in Love" to kick off the musical awards show, with the female singer donning a Nichole de Carle body suit and her husband wearing a classic black tuxedo. Following their performance, Beyonce changed into a sheer, floral gown by Michael Constello, complete with red lipstick.
Beyonce did not receive any awards on Sunday evening, due mostly to the fact that her recent video album, released on iTunes on Dec. 13, was not eligible for this year's Grammy's. She and Jay Z were also nominated for their collaboration on the song "Part II (On the Run)," and Jay Z was nominated for a total of nine awards.