Jennifer Garner Goes to Church After Faith Is Restored by Movie Role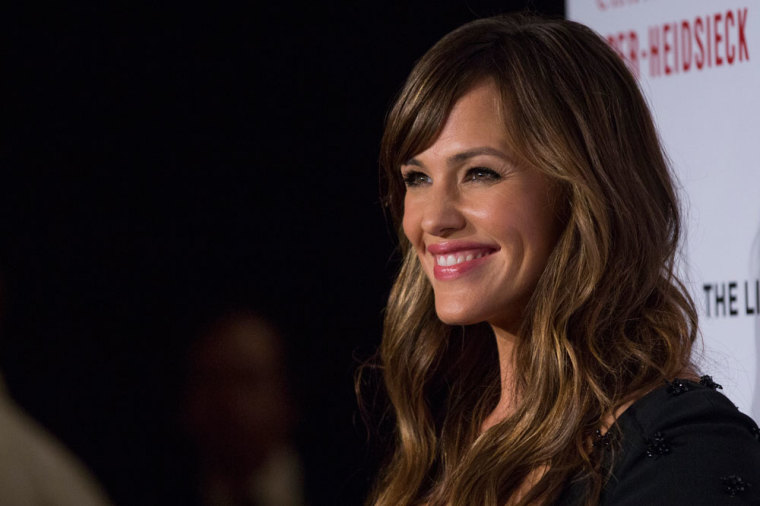 DALLAS — While on the road promoting her upcoming film "Miracles From Heaven," popular actress Jennifer Garner ("Alias", "13 Going on 30", "Daredevil") visited Bishop T.D. Jakes' church to attend Sunday service and spoke of the life-changing impact her movie role has played in her personal life.
"Ahhh I can't even watch the clip, I can't even see it, it makes me cry," Garner said as she joined Jakes and Christy Beam, who she protrays in the film, on stage.
"I fell so in love with this family, I fell so in love with their love for each other. I fell so in love with their faith," she said. "It was a transformative experience to play this woman right here, she made me stronger," the actress confessed about Christy as she choked up.
Garner, producer Devon Franklin and the family whom the movie is based upon, the Beams, joined the worship service at The Potter's House, founded by Jakes, as the Dallas premiere of "Miracles From Heaven" rolled into town this past weekend. The movie is scheduled to hit theaters March 16th.
The film recounts how Christy's 12-year-old daugther Anna lived with pseudo-obstruction motility disorder and is unable to eat, using feeding tubes for nutrition, but finds herself cured after surviving a near-death accident. Christy talked on stage about the horrible ordeal she and her family had faced while going through it all.
4 photos
(Photo: The Christian Post)
While Garner has never really talked about her faith in the past, in a video captured by DeWayneHamby.com during a Q&A conducted during that very same trip to Dallas, she revealed that her faith life has changed. Garner shared that in Los Angeles, where she lives, people don't talk about faith and it's a topic that has become very political. She said that people of faith are usually considered outsiders.
"I will say that being around this community, and while I've always gone to church in West Virginia, that when I got back to Los Angeles, I was talking to my kids about the movie and they said, 'Mom you don't take us to church,' and we went that Sunday, and they went today without me. That decision was a direct gift from this movie and for that I'm very grateful," Garner said.
When the "Miracles From Heaven" guests were on stage, Jakes declared, "Don't worry we already booked out some theaters, The Potter House. Let's shut the theaters down! We're coming in there in our jeans, in our tennis shoes, in our church hats, we don't care what you got on, we're going to take over the theaters and we're going to rock that place… because the church wants to come into the theaters. Let's turn that place up for 'Miracles of Heaven.'"
Before letting Garner walk off stage, Jakes had his choir serenade her with a song that he said both of them share since they were both from West Virginia. The singers belted out John Denver's "Take Me Home, Country Home" as the congregation laughed and sung along.
Jakes's sermon on Sunday was based on Matthew 15: 21-28, titled, "A Crumb for a Crisis." Throughout the sermon, Garner responded every time Jakes asked the crowd to echo some of his statements. As the service came to a close, Jakes encouraged everyone to worship God for their breakthrough. Everyone erupted in praise and Garner got up on her feet also.
Some congregants praised while running throughout the church and another man close to the actress fell back on the floor as she watched. The service went on for about two hours and the Bishop's special guests stayed the entire time.
For more information on Garner's role as Christy Beam, visit sonypictures.com
jeannie.law@christianpost.com