Jeremy Lin's Favorite Bible Verse Reflects His Story of Perseverance
New York Knicks' newest star Jeremy Lin quoted among one of his favorite Bible verse a most fitting passage in Romans on suffering and perseverance.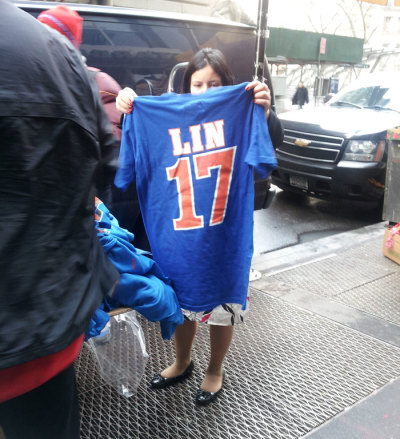 Perfectly describing his own journey thus far, he cited Romans 5:3-5, which read: "Not only so, but we also glory in our sufferings, because we know that suffering produces perseverance; perseverance, character; and character, hope. And hope does not put us to shame, because God's love has been poured out into our hearts through the Holy Spirit, who has been given to us."
"The Bible talks a lot about how God takes bad situations and tough situations and he teaches us and he uses those times of suffering to draw us closer to him and that's what I try to focus on during those times," Lin said during an interview with GoodTV, a Taiwanese evangelical Christian channel.
"For me, when I get knocked down, I really try to get back up and go at it again. I don't like to give up."
The 23-year-old point guard has been knocked down quite a few times in the last few years, beginning with his journey into college.
Receiving no athletic scholarship offers out of high school and being turned down by his first-choice school Stanford University, Lin decided after six months of prayer to enroll at Harvard.
"For me, I didn't want to go to Harvard. That was like my last option. But God closed all the other doors and made it very clear that he wanted me to go there so looking back I can see why and I'm very thankful that I've never gone to Stanford or any other PAC 10 school," he revealed.
When Lin was not selected in the 2010 NBA draft after graduating from Harvard, Donnie Nelson, the president of basketball operations for the Dallas Mavericks and a strong Christian as well, called him and told him that God had a perfect plan for him.
"He said... 'This could be just...another barrier that you have to overcome but God is sovereign.' That was his reminder to me as he was inviting me to play for his summer league team," the former Palo Alto resident recalled.
After playing in the Summer League, Lin received offers to play on multiple teams including the Mavericks, Los Angeles Lakers and Golden State Warriors.
In the end, he signed a two-year deal with his hometown Warriors, his favorite team while growing up, in July 2010, though he was released after a year without much opportunity to play.
He then went on to the Houston Rockets who after less than a month waived Lin to sign center Samuel Dalembert, as well.
The New York Knicks eventually claimed him off waivers late last December, where Lin was assigned to Erie BayHawks of the D-League. He was later recalled by the Knicks and finally given a chance to play by Coach Mike D'Antoni, who previously said that Lin was only put in because his team was doing badly.
When Lin reached career highs during a game against the New Jersey Nets on Feb. 4, teammate Carmelo Anthony suggested to the coach that Lin play more in the second half.
Given more opportunities due to injuries and setbacks from other major players on his team, Lin surprised everyone and became an overnight sensation when he helped secure seven consecutive wins for the Knicks. He was also the first NBA player to score at least 20 points and seven assists in each of his first four starts.
"There were just so many different things that really had to happen in order for me to make it into the NBA and you know I have a list of about 12 to 15 things that had to happen and none of it had anything to do with me and it was all in God's control. His fingerprints are all over my story," Lin said.
Named the Eastern Conference Player of the Week and invited to participate in the 2012 NBA All-Star Game and Slam Dunk Contest, all eyes remain on Lin now.
His humility on and off the court, hard work ethic, and praises to God every chance he gets have sparked an overwhelming fan base and the subsequent "Linsanity" movement, which many hope is here to stay.
Despite the recent fame and popularity, Lin remains committed to his game, his team, and his faith.
"God's given me a unique platform and right now I'm trying to use it in the right way," the 6'3" Asian- American player shared. "I can use national television, I can use media in a way to talk about my faith, to talk about how much God has done in my life, not what I've done to make it to the NBA."
Lin was the first to admit, however, that he still struggled with pride and the "temptations of the world." But he reminded himself constantly of where his identity lies, which was in Christ and not his NBA career.
"To understand that I'm not playing for anything on this earth, I'm playing for my prize in heaven, for the upward call that Paul talks about, that's what I need to remind myself every day when I wake up."
"I [have] to really understand that I'm not playing for all my fans, for my family, even for myself, I really have to play to glorify God," he stated. "And when other people see me play basketball...the way I treat my teammates, the opponents, the refs, that's all a reflection of God's image and God's love so that's the stuff I try to focus on."
In the future, Lin hopes to become a pastor and work with underprivileged communities. He described that some of his teammates grew up in broken homes and poor neighborhoods, lacking many resources. He desired to shine a light on those communities and bring the Gospel to them as well.
He also had a few other goals in mind, including becoming a rotation player, a starting point guard, and winning an NBA championship.
For now, Lin just tried to focus on what is in front of him.
"Every time I step on the court and there are 20,000 fans screaming...I try to block everybody out and...just pretend like God is sitting courtside right there... and just play, play for him," he affirmed. "Obviously it's something that I'm going to struggle with still and get tempted and have to fall off track a little bit and get back on."
"But right now I'm focusing on what my calling is and what my mission is and everything else I leave up to God."
WATCH VIDEO OF JEREMY LIN'S TESTIMONY 
WATCH VIDEO OF JEREMY LIN PRAISING GOD FOR A VICTORY 
WATCH VIDEO OF JEREMY LIN BEING COMPARED TO TIM TEBOW 
WATCH 'A DAY IN THE LIFE' VIDEO BY JEREMY LIN HERE