Jerry Sandusky Taunted With Pink Floyd Song by Inmates: 'Leave Those Kids Alone' (AUDIO)
Jerry Sandusky Taunted With Pink Floyd Song by Inmates: 'Leave Those Kids Alone' (AUDIO)
Jerry Sandusky remains on suicide watch at the Centre County Correctional Facility where inmates are reportedly taunting him with song lyrics from Pink Floyd's "The Wall" album.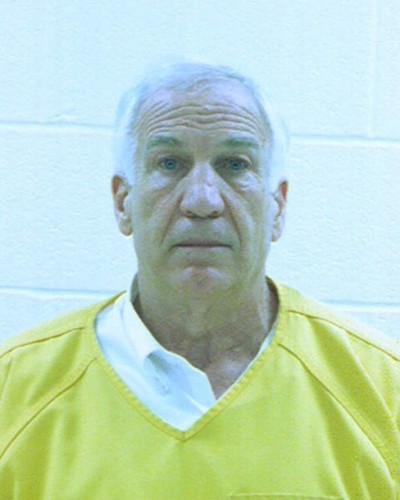 Sandusky, a former Penn State Assistant Football Coach, was found guilty of child sex abuse on Friday and ultimately convicted on 45 of 48 charges. He used his position at Penn State to coerce children into sex, raping them on university grounds or at his home. His fellow inmates proceed to taunt him over his heinous crimes, according to TheDaily.com.
"At night, we were singing 'Hey, teacher, leave those kids alone," a source told The Daily adding that many inmates were able to follow his trial because they have access to television and newspapers.
The prison holds up to 349 inmates and the disgraced 68-year-old will likely die behind bars, it has been revealed.
Sandusky, who will be sentenced in three months time, faces 442 years in prison after the jury of seven women and five men deliberated for just 20 hours before reaching the verdict.
Joshua Harper, one of the jurors, recently spoke out about the case and said that the jurors believed the stories of eight young men who took the stand, despite some inconsistencies in their testimony.
"It's hard to judge character on the stand, because you don't know these kids. But most were very credible- I would say all," Harper told NBC's "Today" show.
Harper revealed that assistant Penn State football coach Mike McQueary's testimony about seeing Sandusky rape one of the victims in a locker room shower was damning evidence.
"I just kept going back to - 'Why would McQueary lie about this?' - and he was sure, and he made it very apparent that he saw something that was wrong and very sexual," Harper said.
Sandusky sat calmly with a blank stare as the guilty verdict was read, which for some was his indirect admission of guilt.
"I looked at him during the reading of the verdict and just the look on his face. No real emotion because he knew it was true," Harper said.
Jerry Sandusky Perp Walk After Guilty Verdict