Duggars '19 Kids and Counting' News: Jessa Duggar and Ben Seewald Wedding Update - Wedding Invitation
In less than one month, Jessa Duggar will be marrying her fiancé, Ben Seewald. To get into the spirit of things, the Duggar family of "19 Kids and Counting" gave a sneak peek at what the wedding invitation looks like on the Duggar's official blog.
The invitation features a picture of the couple gazing at each other amidst a backdrop of lush green trees, with the following inscription:
"Mr. and Mrs. Jim Bob Duggar request the honor of your presence at the marriage of their daughter Jessa Lauren Duggar to Benjamin Michael Seewald, son of Michael and Guinn Seewald, November 1, 2014."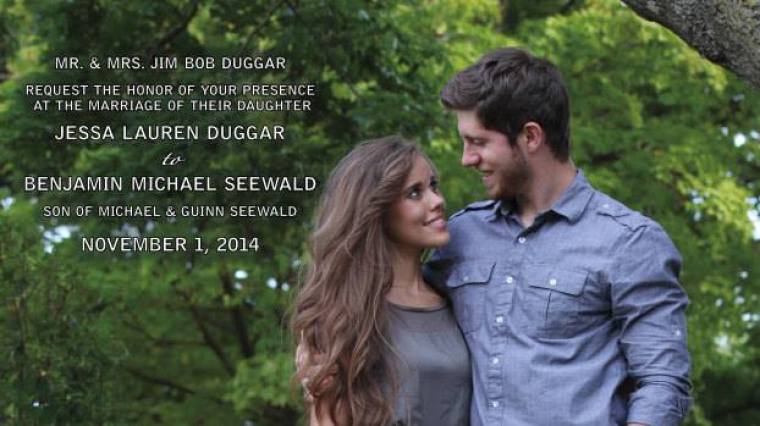 Meanwhile, wedding preparations are in full swing as the engaged couple shared their wedding plans with People magazine.
"I'm super excited," Jessa said. "Everybody has really been pitching in."
It has been previously reported that Jessa's wedding will have similar elements as Jill's wedding, which took place a few months ago, to save on the costs.
According to the Duggar's blog, the engaged couple has chosen their colors—navy blue, gray, and coral pink—and plans to have 10 bridesmaids and 10 groomsmen. Jessa and Ben have also reportedly sent out 800 invitations.
As hinted in a previous episode of "19 Kids and Counting," Jessa and Ben's wedding guests will feast on ice cream sundaes instead of a traditional wedding cake.
The couple has not announced their honeymoon location, but is planning to go "somewhere warm."
And while older sister Jill wasted no time conceiving a child after getting married to Derick Dillard, Jessa confessed that she wants to adopt.
"We're both open to children and looking forward to starting a family of our own. We also really want to adopt," said Jessa to People Magazine.
Ben echoed her sentiment and said, "We've got a lot of different ideas about what we're going to do, but adopting is definitely one of them."
Jessa Duggar, Ben Seewald Wedding Date Announced