Jesus Fabric Softener? Man Claims Jesus Appears in T-Shirt Fabric Softener Stain (PHOTO)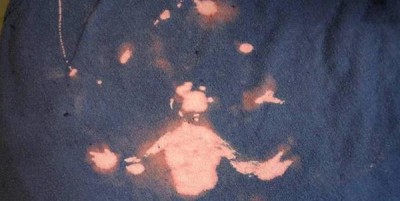 Jesus has appeared as a fabric softener stain, according to one British man in reports out this week.
Martin Andrews reportedly had an accident in which he spilled some fabric softener on his T-shirt, and the resulting stain is an image of Jesus Christ, the man resolutely claims.
However, in order to see the Son of God properly, Andrews has advised you have to turn the T-shirt upside down, and then Jesus' face can be seen clearly.
According to Andrews, Jesus appears in the stain with his arms stretched outwards.
Others, however, have mocked Andrews claims, with some saying that the image looks more like a juggler tossing some objects in the air rather than the Messiah.
Andrews is undeterred in his claims though, and he has said, "When the T-shirt's the right way up it doesn't really look like anything … but when you look at it the other way up it's really Him."
He added, "I showed my mates at work the picture and one of them said, 'I've heard you can find comfort in Jesus but you've found Jesus in Comfort!'"
A few other of his co-workers have insisted that the stain looks more like Fonzie from the popular TV series "Happy Days."
This of course is not the first claim of Jesus appearing in images to people. Just earlier this year in January, an apparent image of Jesus was claimed to have manifested on the window of a Californian hotel known ironically for having many celebrity guests.
Chuck Rickman, a 911 dispatcher, took a photo of the alleged apparition on a window at the Hard Rock Hotel of San Diego on his cellphone this past weekend. The image can be found here.
In an interview with The Huffington Post, Rickman explained that he was "walking downtown when out of the corner, it popped out at me."
"It looks like someone had taken a shower and steamed up the window, but I talked with a young man nearby and he said he had seen it for several weeks," said Rickman.
Jesse Winkler, lead pastor of Westview Church in San Diego, told The Christian Post that he felt that in general "God can do whatever he wants whenever he wants by whatever means he wants and there is nothing that can hinder him."
"The scriptures make it clear that we live in the age of redemption whereby God is revealing the Son (Jesus) to people on the earth. He does this in both word and deed," said Winkler.
"That means he reveals Jesus through preaching and teaching the gospel as well as works which includes the miraculous, supernatural workings of God."
Regarding the alleged miraculous image at the Hard Rock Hotel, Winkler told CP that all such claims of images are tough given that no one is sure what the historical Jesus looked like.
"When it comes to an image of Jesus it's tough because nobody has or knows of a true image of Jesus today. But that doesn't mean that God can't put an image of what people think Jesus looked like wherever he wants and use it in people's lives however he wants," said Winkler.
"So I believe in a limitless God that can and will use whatever means he wants to glorify Jesus and draw all people to him….Is that what he was doing in the window of Hard Rock Hotel? I don't know. I'd ask Chuck Rickman what it meant to him."