Jesus Told Widow of Tortured Missionary to Forgive Muslims Who Killed Him (Interview)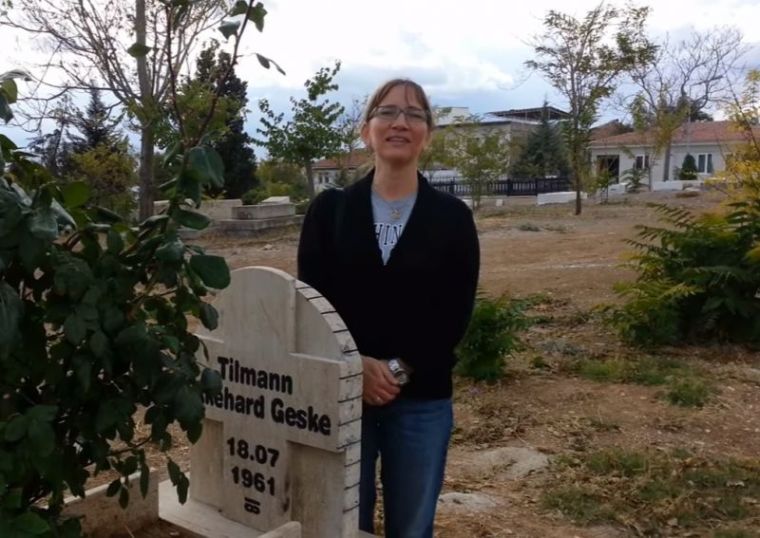 WASHINGTON — The wife of a tortured and slain Christian missionary who made headlines when she declared that she had forgiven her husband's murderers just days after his death says the reason why she was able to forgive so quickly is because Jesus had told her to do so.
In an interview with The Christian Post last week, Susanne Geske recalled the emptiness she felt in the moments and days following the death of her husband. Tilmann Geske, a German missionary, was killed along with two Turkish converts from Islam in a massacre at a Bible publishing house in Malatya, Turkey, on April 18, 2007.
According to reports, the three men were heinously tortured and mutilated and Geske was stabbed a total of 156 times. The massacre made international headlines and five Muslim men were convicted and sentenced to life in prison for the crimes last year.
"It was just like empty," the mother of three said, describing the feeling in her heart in the days after her husband's death.
Speaking with CP while attending the first-ever World Summit in Defense of Persecuted Christians hosted by the Billy Graham Evangelistic Association, Geske detailed what happened in the hours and days after learning of her husband's passing.
"Actually, I couldn't go home. My kids were taken back from France to home. My eldest daughter came by bus and they sent me to the police office," she explained. "So, I sat there for two hours not knowing what I am doing there and have this television on. I asked if they could [shut it down] because they all were just telling lies about us and what horrible people we are. I didn't want to watch that conversation."
As Geske and her children returned home, she noticed that many of their friends, neighbors and co-workers, most of whom are Muslim, were at the family's residence to show their support.
"My house was crowded, filled to the top. ... We have a kitchen, a long hall, a living room for my kids, a big living room and another room, they were all filled with people," she said. "Actually, they were all Muslim, all my neighbors, and some people from the church, of course. The Turkish church people, they were so scared, they wouldn't come but other people from other cities would come."
It was on the next day that Geske said many pastors had came to her home to visit with her.
"In the end, we are sitting all there in my living room with people I have never seen before. I just had nothing in my mind. Then, someone came and said that the media is in front of the door and they want to talk to you. I was like, 'No way. What on earth do I say to them?' Then one of the pastors said, 'You know, we always want the Gospel to go out,'" Geske explained. "That was like, a switch flipped inside to make me move. I was like, 'Okay! But what do I say?' I did a quick prayer and said, 'You always promised that when we don't know what to say, you would tell us what to say.' It was really like, Jesus said, 'Father forgive them because they don't know what they are doing.'"
And that is exactly what she told Turkish television channel ATV: "Father, forgive them, for they know not what they do."
A number of media outlets across the globe reported on Geske's act of forgiveness. However, she tells CP that it really wasn't her decision to forgive the attackers. To her, it was more of an act of "obedience."
"I was like, '[Jesus] said this to me, I will do it.' I wasn't even thinking about it," she said. "I had no clue what I was doing. I really didn't. I just thought it was a really good thing to do. I was just obedient."
"There was nothing in my heart, not love, not hate, nothing. Actually, my daughter asked me once, 'Mom, are you crazy? You forgive these guys but you still have trouble with your landlord?'" Geske continued. "I can't explain this. I can't. I think it is just the Lord's doing. He wanted this to happen and then He made it happen. That is the only explanation I have."
Being a decade removed from the tragedy, Geske says that through the experience, she and her children have really learned that "the Lord's Word is so true."
"He said, 'If you give up everything, you gain everything,'" Geske said. "We gave up family in Germany. My daughters sometimes say, 'We don't have family and I don't have cousins.' I say, 'But, you have so many friends and we have such a big family. We got all these letters, all these people, all these presents.' Sometimes my kids say that they would like dad more than all these presents, but it helps. My daughter said, 'Mom, are people praying for us?' I said, 'Yes, why?' She said, 'I can feel it.' We were really covered through all these prayers."
Although her husband's death means that she's had to raise three children as a widowed mother, Geske says she leans on the Lord for help.
"I just [call on the Lord] and say, 'You let this happen, so please help me with my kids. This is Your turn. I can't do anything any more.'" She said. "I can say all three kids are really with the Lord and this is a miracle for me. This is just because of all these people praying and we have such a big family and everyone watches after the other. This is what we really gained."