Joel Osteen Gives Emotional Prayer for 'Brothers and Sisters in Charleston' After Emanuel AME Church Massacre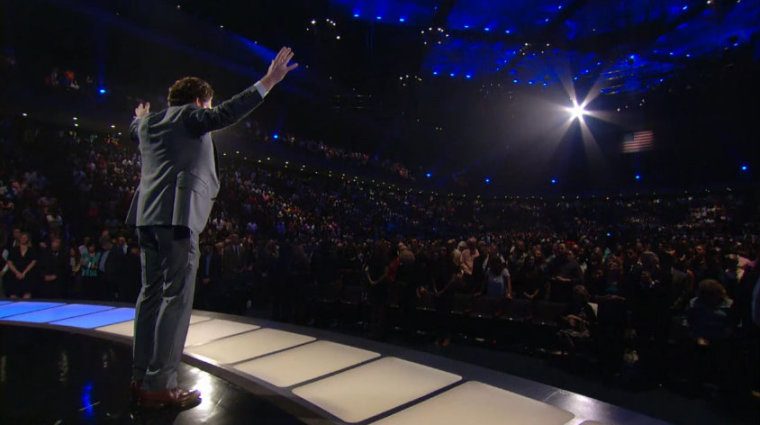 Joel Osteen, best-selling author and pastor of one of America's fastest-growing churches, led tens of thousands of worshipers in an emotional prayer this past Sunday for survivors and family members of the nine people killed in a Charleston, South Carolina, church massacre last week.
His voice halting at times, the Lakewood Church pastor prayed for his "brothers and sisters in Charleston" for about 40 seconds as he stood on the large stage of the massive Houston, Texas, church, his arms held high and his eyes shut tightly.
"Lord, we lift up all those that are going through loss, those that are hurting, our friends, brothers and sisters in Charleston. Through that loss, Lord, we just ask You to comfort those. Lord, let them feel Your presence, Your power, Your goodness, Your mercy," Osteen began.
"Lord, we thank you that even when it looks like it's out of control, that You're still in control. That You know how to give beauty for ashes, joy for mourning. Lord, that what's meant for harm, that You can still somehow turn it away, use to our advantage. So I do pray, Lord, that you comfort all those that have gone through loss, that are hurting today. We just thank you Father, that you are in control, that You are good, that Your mercy endures forever," he concluded.
Osteen, whose full prayer lasted for about 3 minutes, offered the 40-second heartfelt prayer for Charleston victims and survivors during the Sunday, June 21 service as many other Americans gathered in houses of worship across the nation in solidarity with those killed days prior at Emanuel African Methodist Episcopal Church. However, most eyes were on the service held at the historically black Emanuel AME Church on Sunday, as the congregation's first gathering since the deadly shooting was broadcast online and on television.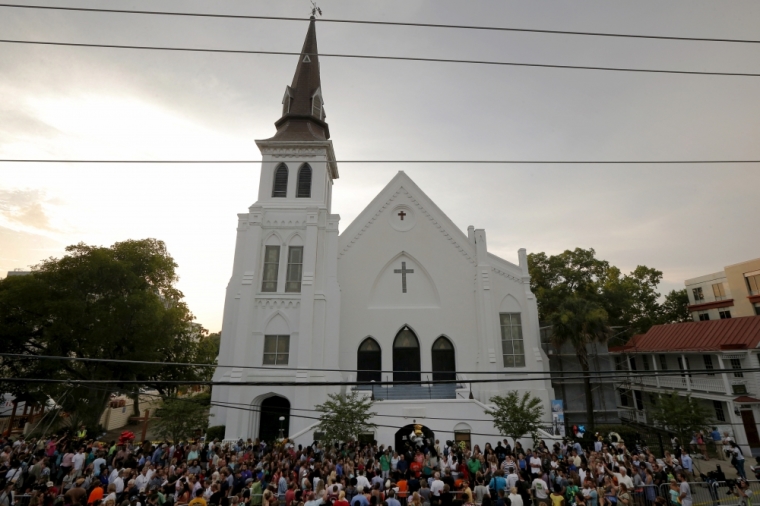 "The doors of the church are open. No evildoer, no demon in hell or on Earth can close the doors of God's church," the Rev. Norvel Goff declared during prayers at Emanuel AME, according to CNN.
Authorities say Dylann Storm Roof, 21, walked into Emanuel AME around 8 p.m. on Wednesday, June 17 and sat for an hour with a small group of 13 people gathered for Wednesday night Bible study. At the end of the hour, Roof opened fire on the all-black group, killing eight at the scene while the ninth victim died at a hospital. Emanuel AME's pastor, Democratic State Senator Clementa Pinckney, was among those killed.
Roof, who is white, was captured less than 24 hours after the killings and confessed to the massacre, reportedly inspired by his desire to "start a race war." Roof has been charged with nine counts of murder and possession of a firearm during the commission of a violent crime. On Friday, a magistrate judge set his bond at $1,000,000 and he remains in custody. His next court appearance is Oct. 23.
According to Emanuel AME's interim pastor, the Rev. Goff, funerals for many of the victims will be held this week. In addition to the late pastor Pinckney, other victims include: Sharonda Coleman-Singleton, Cynthia Hurd, Tywanza Sanders, Myra Thompson, Ethel Lee Lance, Rev. Daniel L. Simmons, Rev. Depayne Middleton-Doctor and Susie Jackson.
Watch Osteen's excerpted prayer for the Charleston shooting victims in the video player below: