Joel Osteen Talks Biggest Preaching Mistake, 'Owning the Room'
Lakewood Church Pastor Reveals in Esquire How He Quashes Fear, Prepares Sermons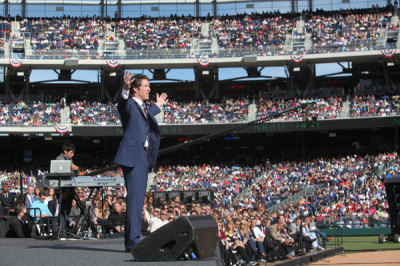 Pastor Joel Osteen of Lakewood Church tells Esquire magazine in its newest issue how he overcame extreme nervousness and finally found the confidence to speak before thousands. The evangelical Christian leader of America's largest church also reveals the biggest mistake he has made as a preacher, which he says happened early in his career.
Talking with Rachel Richardson for the Esquire essay on public speaking, or "How to Own the Room," the megachurch pastor said that before taking over full-time for his father in the pulpit, he used to be a nervous wreck just making church announcements.
"I was so nervous and I so dreaded doing it, I had to hold on to the podium because I felt like my hands would shake," Osteen told Richardson. "My first thought was 'Why are all these people staring at me?'"
Osteen shared that he eventually learned how to conquer his nervousness by pretending that his audience, which currently numbers about 43,000 every week at Lakewood Church, were actually old basketball buddies from the local YMCA. "I spoke in everyday language," he says in Esquire.
The megachurch pastor and best-selling author revealed that the biggest mistake of his preaching career happened within the first few months of him becoming senior pastor of Lakewood Church. "In the first few months after I took over for my father as pastor, I tried to be like him," said Osteen. He realized his father's "old-school" style wasn't for him, but soon found his footing and "stayed within [his] own gifts."
Osteen added that his sermon preparation involves memorizing his remarks, listening to himself on tape and avoiding making eye contact with individuals when manning the pulpit. "If I focus on individuals, I tend to lose my train of thought and start thinking, 'Are they listening? Are they paying attention? Why is that? What are they wearing?' So I just stare out," the Texas minister told Richardson.
In Esquire's May issue, currently on newsstands, Osteen also talks about his insecurities in listening to other preachers and dealing with questions he doesn't have answers for, among other topics. Osteen's public speaking essay appears as part of Esquire's "Working" feature on being empowered in the workplace.
Lakewood Church, located in Houston, Texas, is a nondenominational Christian church founded in 1959 by John Osteen and Dolores Osteen. Joel Osteen stepped into the pulpit as senior pastor in 1999 after his father's death. Lakewood has since become America's largest church, averaging a weekly attendance of 43,000.
While Pastor Osteen reaches millions of supporters worldwide through his best-selling books and global Internet, television and radio broadcasts, some Christians have questioned his approach to preaching. The married minister of two has been accused of watering down the Gospel or focusing predominantly on prosperity, or health and wealth, in his messages, instead of preaching about sin or suffering.
"I get grouped into the prosperity gospel and I never think it's fair, but it's just what it is," Osteen said recently on such claims in an exclusive interview with The Christian Post. "I think prosperity, and I've said it 1,000 times, it's being healthy, it's having great children, it's having peace of mind. Money is part of it; and yes, I believe God wants us to excel."
He went on to add that he believes "God wants us to excel and be blessed so we can be a bigger blessing to others. I feel very rewarded."
"I wrote a book and sold millions of copies; and Victoria and I were able to help more people than we ever dreamed of. But when I hear the term prosperity gospel, I think people are sometimes saying, 'well, he's just asking for money.'"