Joey Feek Condition Latest News Update: Country Singer Ready to 'Go Home'
Joey Feek's health continues to deteriorate amid her losing battle against cancer, and she has recently told her husband Rory that she is now ready to go home to Jesus.
Country singer Joey Feek is currently in a lot of pain caused by her illness, and her morphine dose has to be increased daily to decrease her discomfort. Her husband Rory revealed that she has been talking to Jesus and is already ready to go home to heaven if her time finally comes, according to Fox 5 Atlanta.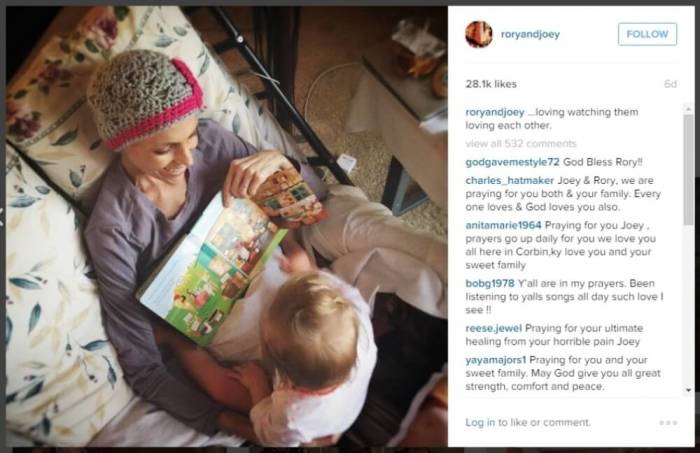 In his latest blog entry titled "This Life I Live," Rory recalls the time when he and Joey recorded Sandy Lawrence's song "When I'm Gone" in 2012. The song speaks about hope and perseverance in the middle of a trying situation where a person loses a loved one, Wide Open County reports.
Rory says his wife has finally come to terms with her terminal cancer and is already spending her last few days talking with Jesus Christ.
"Yesterday with tears in her eyes and mine, Joey held my hand and told me that she has been having serious talks with Jesus," said Rory in his blog. "She said she told him that if He's ready to take her… she's ready to come home."
At the moment, Rory is struggling to accept his wife's impending departure, and he vividly describes his emotions in the blog entry. He also said Joey's morphine dosage has quadrupled in the past few days. While he wants to say that his wife is doing great and will be able to make it out alive, he admits that he cannot.
Rory revealed that they have added "When I'm Gone" to the list of songs in their upcoming album titled "Hymns That Are Important to Us."
Joey Feek is expected to last only a few days. A tribute to their lasting love for each other is posted on their blog.