John McCain, Other Republicans, Break With Party Over Controversial Religious Freedom Bill Slammed as Discriminatory Against Gays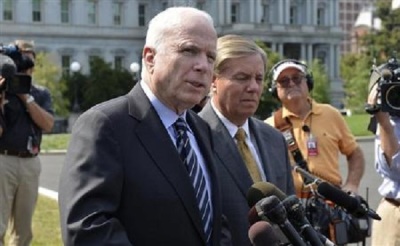 Arizona's two Republican senators, John McCain and Jeff Flake, tweeted their opposition to a state bill which proponents have argued will protect residents' religious freedom, while opponents have criticized the bill as legalizing discrimination against the LGBT population.
McCain and Flake tweeted their opposition to the bill on Monday and Saturday respectively.
In almost two identical tweets, McCain wrote "I hope Governor [Jan] Brewer will veto #SB1062," while Flake tweeted "I hope Governor Brewer vetoes SB 1062."
In a 17-13 vote approving the bill largely along party lines, the Republican majority state senate passed the bill last Wednesday. The state House of Representatives passed the bill by a 33-27 vote Thursday.
Brewer, a Republican, has yet to give her opinion on the bill. Should she not sign it, it would automatically become law if it sat on her desk for five days without her vetoing or signing it.
McCain and Flake's opposition to SB 1062 comes at the same time that Republican state senators Bob Worsley, Adam Driggs and Steve Pierce sent a letter to the governor asking her to veto the bill which they had just voted to approve.
"I was not comfortable' with the vote,' Worsley told The Associated Press. "I have not been comfortable with this for some time. I think laws are on the books that we need and have now seen the ramifications of my vote. I feel very bad and it was a mistake."
According to The Christian Post's political analyst Napp Nazworth, contrary to what critics have alleged, the bill "would not usher in an era of 'Jim Crow for gays' in that state."
Instead, Nazworth argues that it would change Arizona's existing Religious Freedom Restoration Act (RFRA) by clarifying that "any association, including for-profit corporations, are covered" under the legislation. It would also "clarify that the government does not have to be a party in the case" but could also include "any individual, association, partnership, corporation, church, religious assembly or institution or other business organization."
It would also "require that those claiming a religious freedom violation show that there is an actual religious belief behind their action, that they are sincere in their religious belief, and a state action has placed a substantial burden on their religious belief."
This contrasts with the perspective of Senate Democratic leader Anna Tovar, who has argued that the bill "permits discrimination under the guise of religious freedom."
"With the express consent of Republicans in this Legislature, many Arizonans will find themselves members of a separate and unequal class under this law because of their sexual orientation. This bill may also open the door to discriminate based on race, familial status, religion, sex, national origin, age or disability."
Ohio, Mississippi, Idaho, South Dakota, Tennessee and Oklahoma state legislatures have all introduced similiar religious protection legislation, though Arizona is the first state where such a bill has passed.