Josh Duggar Suing City Officials Over Mental Anguish, Humiliation From Molestation Reports?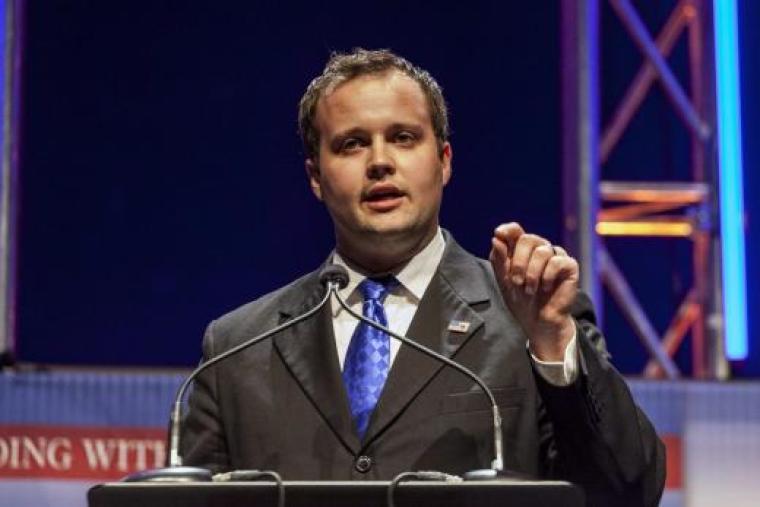 Josh Duggar is reportedly joining his sisters' lawsuit against his local Springdale, Arkansas city officials and In Touch magazine, according to new reports that claim the television personality feels publicly humiliated after those parties failed to protect his privacy.
According to TMZ, Josh, 29, is joining his sisters Jill, Jessa, Jinger and Joy who filed court documents against In Touch publishers, their local police, and city and county officials.
When the Duggar sisters stepped forward to tell authorities that their brother molested them as children, Josh was also interviewed about the matter in 2006.
However, instead of keeping the information private as Josh was reportedly promised, their statements were made public and published in a story by In Touch. The events caused Duggar mental suffering and humiliation, TMZ reports.
According to TMZ, Duggar is seeking damages from local police, prosecutors and In Touch publishers because he was "victimized and forced to relive the painful and difficult circumstances of a traumatic experience as a juvenile."
After the initial In Touch reports surfaced years ago, Josh issued a public statement where he admitted his wrongdoing.
"Twelve years ago, as a young teenager, I acted inexcusably for which I am extremely sorry and deeply regret. I hurt others, including my family and close friends. I confessed this to my parents who took several steps to help me address the situation," Josh told People magazine. "We spoke with the authorities where I confessed my wrongdoing, and my parents arranged for me and those affected by my actions to receive counseling. I understood that if I continued down this wrong road that I would end up ruining my life."
Last year, the Duggar family released a statement to announce that Josh had completed a stint at a faith-based rehabilitation program.
"Josh has completed his residential rehabilitation program. It was a crucial first step in recovery and healing for Josh," the statement said. "Josh has now returned to Arkansas, where he will continue professional counseling and focus on rebuilding relationships with his family. We look to God for help and guidance and place all of our trust in Him."