Joyce Meyer Debuts Children's Book 'Every Which Way to Pray'
Charismatic televangelist Joyce Meyer, founder of a popular Missouri-based ministry and mission and a New York Times bestselling author, has penned over 90 books for adults. Now, the minister with a "tough" demeanor and unique sense of humor is reaching out to a new audience with her debut children's book, Every Which Way to Pray.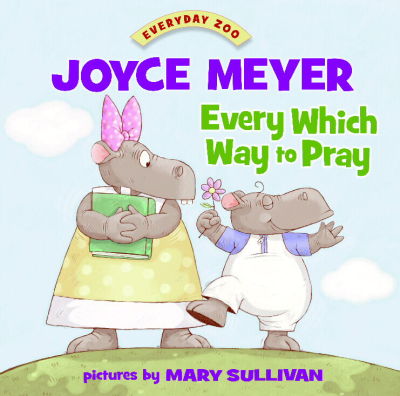 Children's books are a great way to reach the youngest population "with a message that can really help them," Meyer recently told The Christian Post. A book is a good medium because "they [children] read books. Their parents read books, too. I'm sure most parents read to their children to explain what certain things mean. So books are a good way to convey a message to anybody. Everybody reads."
Meyer was declared one of the 25 most influential evangelical leaders in the United States by Time magazine. More than 12 million copies of her books have been distributed around the world, translated into 84 languages, and each year millions are sold, according to the ministries' website. The Bible teacher also hosts a TV and radio show, "Enjoying Everyday Life," which broadcasts worldwide to an estimated audience of 4.5 billion people in 43 languages.
Her book, Every Which Way to Pray, revolves around a whimsical cast of animal characters who help two animal children discover the many "fun, simple and engaging" ways to pray each day. The goal is to explain to readers that "prayer is simply talking to God like a friend and should be the easiest thing we do each day."
"You don't have to be high in the sky to be close to God!" one character in the book says. "That's what prayer is for!"
Every Which Way to Pray was inspired by Meyer's earlier book for adults, The Power of Simple Prayer.
"I've taught a lot about prayer over the years and how it is really just talking to God," Meyer wrote in recent a blog post published in The Huffington Post. "Prayer is such a basic foundation of a Christian's relationship with God. It's how we communicate and fellowship with Him. But a surprising number of people, young and old, new and even long-time Christians, say they're not satisfied with their prayer life."
For one, some people seem concerned with following "rules" for prayer, or praying "right," the author wrote. They "aren't confident God will hear or answer them if they don't. But prayer is simply talking to God."
People have been asking Meyer, who has four children and 10 grandchildren, for years whether her ministry was planning to provide material for a younger audience, she told CP. "And I guess initially I wouldn't have thought that I had anything for children because of the type of messages that I preach, but I think I found out that they can certainly be adapted for children," she explained.
When Christian publisher Zondervan's Zonderkids approached Meyer and suggested a child-friendly version of her teachings, she did not hesitate and embarked on the venture which "started, just as an act of faith," she said.
"When it comes to teaching children about prayer, I get excited, because if they can grasp this simple truth early enough in life, they will most likely grow up enjoying a fulfilling relationship with God and a satisfying prayer life," she wrote in her blog. "Think about it, most kids will talk openly and honestly about almost anything. This is how we can teach them to pray -- openly, honestly, about anything that's on their mind."
Now, the popular preacher known for her straight-forward teaching style is already planning more children's books. The next one will explore the topic of peace -- how children can play games peacefully and not fight or get angry, she revealed.
Read Joyce Meyer's inspirational blogs on CP.