Judge Judy Says She's 'Crazy About' Donald Trump, Offers Advice
Retired Manhattan family court Judge Judith Sheindlin, the plainspoken personality behind daytime television's iconic Judge Judy reality court show says she is "crazy about" GOP 2016 presidential frontrunner Donald Trump, but wants him to tone things down a bit to be considered "a real candidate."
In May this year, prior to Trump's formal announcement of his candidacy in June, Sheindlin told ABC 13 Action News that she was looking for a candidate who would eschew political correctness and say how they honestly felt about the issues.
"Wouldn't you like to hear what the candidates who are running for president have to say legitimately about how they feel about issues? Rather than being politically correct and hearing the same old hogwash that we've heard for the last 30 years?" asked Sheindlin, who is known for her straight talk.
With Trump now leading, according to national polls, every other candidate in the 2016 GOP presidential nomination race after a string of outlandish statements, Sheindlin is now urging a bit of temperance.
"I think that if he really wants to be considered as a real candidate, he has to start to temper some of that rhetoric, because while the truthfulness and the candor and the directness of his speeches was appealing for a period of time, in order to be considered [president] — to me, and I'm crazy about Donald. In order to be presidential there has to be a measure in the way you present your argument," Sheindlin explained in a recent follow-up interview.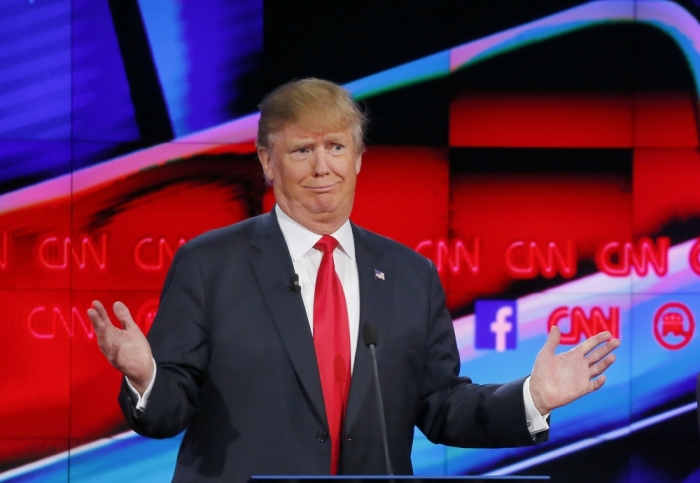 Trump is winning says Sheindlin because voters "were hungry for plain speak. And Donald is plain speak."
A new Washington Post-ABC News poll this week now puts Trump's support among registered Republicans and Republican-leaning independents at 38 percent. This support is six points higher than it was in October and November in the current race to become the GOP nominee for president.
Sen. Ted Cruz, R-Texas, is now in second place with 15 percent while Sen. Marco Rubio, R-Florida, and retired neurosurgeon Ben Carson are tied for third, with 12 percent each. No other candidate in the new poll registers in double digits.
Despite her praise for candor in candidates, Sheindlin said she thinks in the long run, the ability to be diplomatic is a necessary skill for anyone looking to become the leader of the free world.
"I'm looking for somebody who not only the citizens of this country can say is a true leader, but the citizens of the world. The president of the United States is the leader of the free world. We have to be able to, the world has to be able to rely on his or her word to feel that they have a good moral compass," she said.
When asked who she thinks will become the next president, Sheindlin said she would leave that question for voters to answer.
"Polls are beginning to shift a little bit. I don't know what the next six months are going to bring, but I think it's more the responsibility of citizens in this country to keep themselves abreast of reality and what's going on around them. Otherwise in the famous words of Ed Koch, you get what you deserve," she said.