Kansas Sinkhole (PHOTO): Massive 200 Foot Sinkhole Still Growing, Locals Warned to Stay Away (VIDEO)
A Kansas sinkhole has continued growing after swallowing a massive field in Wallace County.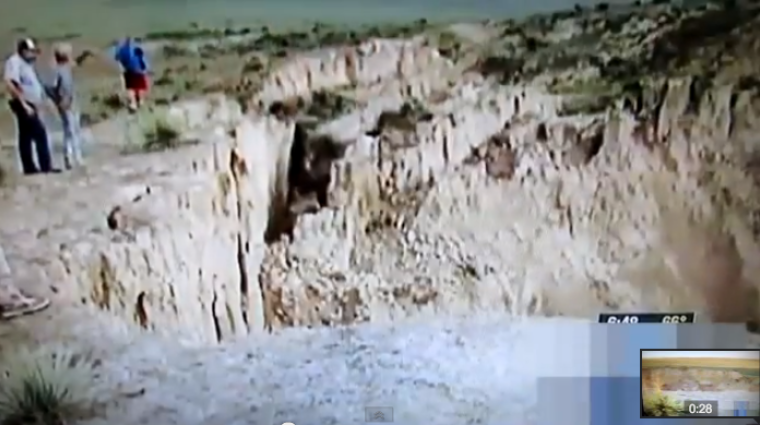 The Kansas sinkhole has been measured at 200 feet across and 90 feet deep, but has still not stopped swallowing up the land. Officials have warned those in the local area that the sinkhole is continuing to swallow up the ground, and that those in the nearby proximity should be on alert and stay clear of the danger.
The sinkhole is said to have made a massive pasture disappear in West Kansas. Officials are still waiting for experts to reach the area to examine the massive hole. At the moment they are still uncertain as to what exactly caused the huge sinkhole to appear, as there are no nearby irrigation wells or oil drilling happening anywhere in the region.
Officials have described that large cracks are spreading outwards from the sinkhole, and that those cracks are continuing to grow and stretch out further, causing more concern that further collapses could occur.
No one has yet been injured in the Kansas sinkhole, but some in the local area have reported that many are visiting the area to get a glimpse at the hole, and that has led to fears that someone may get injured trying to get close to it. The landowner where the sinkhole has appeared has reportedly been trying to stop curious visitors from entering the neighboring area to see the hole.
Local resident Gavin Mote has said that seeing the sinkhole in person really reveals just how huge the hole is: "I'd seen pictures and I knew it was deep, but I didn't think it was this deep. You get out here and you get a whole different perspective on how deep it is."
In recent months in separate incidents, a car was swallowed up by a Kansas sinkhole in Toledo. In that case the driver did survive and was able to be rescued from the large hole that opened up in the road.
In another incident in New Jersey another person was swallowed alive, and could not be saved.
Here is a video showing the massive sinkhole in Kansas: