Kanye West Offered Jay Z Marriage Advice About Beyonce?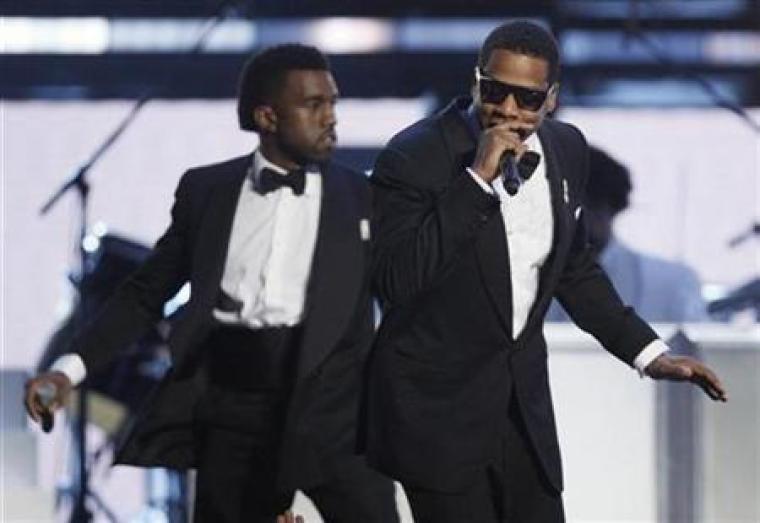 Kanye West reportedly offered Jay Z marital advice amid reports claiming the hip-hop mogul's marriage to Beyonce is under strain.
The "Yeezus" rapper, 37, and the hip-hop star, 44, have been subject to feud rumors stemming from Jay Z's recent wedding snub, however, it is unclear whether there is any truth to the claims. One insider claims West, who married Kim Kardashian on May 24, recently offered advice to the "Tom Ford" rapper following false infidelity reports.
"Jay thought it was laughable that Kanye was trying to give him tips when he's only been hitched two minutes," a source told Daily Star U.K.
"His jaw dropped to the ground when he got the call. Kanye said he thinks Jay needs to stay focused on his marriage, ignore the negativity surrounding them right now and told him to 'take care of business," the source went on adding "despite the fact Jay agreed with the sentiment, he thought it was ridiculous that Kanye was trying to act like he knew it all."
On June 12, reports revealed that a woman romantically linked to Jay Z through a gossip magazine had threatened legal action over claims of an an affair with the mogul.
Reality star Casey Cohen was recently described as being Jay Z's "mistress" by a U.S. tabloid, however, the report is false and the 28-year-old is said to be furious.
Cohen's legal rep reportedly sent out a cease and desist letter to Bauer Media, which published In Touch magazine among others, and demanded that all false reports be taken down and that a public apology be issued, according to TMZ.com.
"[Cohen and Jay Z] have never been in love or intimate," the letter states. It also dismisses the cheating report as "a foul and phony mistress-rumor."
The socialite reportedly acknowledged once meeting the hip-hop mogul and his famous wife Beyonce through her job as a VIP nightclub hostess in New York City. However she maintains that there was never an affair, as is suggested in the tabloid report.
Jay Z and Beyonce have been subject to ongoing rumors surrounding their marriage in recent weeks, following an assault scandal which occurred in early May.
Solange Knowles infamously attacked her rapper brother-in-law in an elevator while leaving a Met Gala after party last month as her sister Beyonce helplessly stood by.
"It's been really rocky for them. There is trouble in paradise," a source previously told Life & Style magazine.