Katie Holmes' Father Takes Control Amid Tom Cruise Divorce, Fires Actress' Agent
Katie Holmes has received an overwhelming amount of support from friends and fans since filing for divorce from Tom Cruise on June 29, but it is the actress' family who have reportedly stepped up to help her following the recent breakdown of her marriage.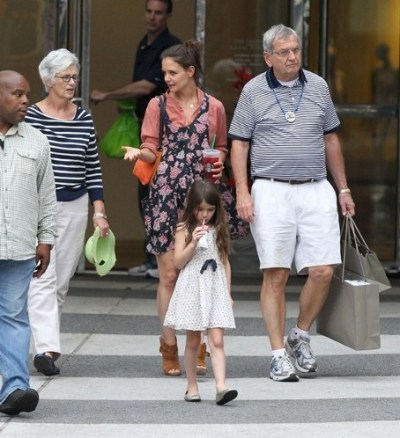 The 33-year-old's father Martin Holmes, an Ohio-based divorce attorney, recently arrived in New York, where Holmes and her 6-year-old daughter Suri are living in a bid to help her reclaim her life, according to The Daily Mirror UK.
Martin has reportedly begun orchestrating the life changes that Holmes needs to implement following her divorce filing from Cruise, 49, and the first move was to fire the mother of one's publicist.
"Actress Katie Holmes has left her publicist at Slate PR and has signed with BWR Public Relations," BWR said in a statement to Red Pages UK.
"Following the announcement of her divorce from Tom Cruise, she is now represented by Leslie Sloane in the New York office and Nanci Ryder in Los Angeles. Katie is set to star alongside Chace Crawford in the upcoming film Responsible Adults which starts filming later this year," the statement added.
Her new representatives are said to be the same people who represented her prior to her marriage to Cruise.
Holmes abruptly filed for divorce from Cruise after five years of marriage on Thursday, and she has reportedly turned to her parents Martin and Kathleen Holmes for help despite their past differences.
Holmes' parents, who are devout Catholics, reportedly objected to their daughter marrying Cruise because of his deep rooted involvement with Scientology. They eventually came around out of fear that Cruise would permanently jeopardize the relationship that they have with Holmes, who is their youngest child.
"Tom and Katie have an absolute iron-clad pre-nup and Katie doesn't intend to contest any element of it. The only thing to be hammered out will be custody of Suri -- Katie wants primary custody, and she will get it," a source told Radar Online.com.
"Katie's father Martin Holmes is an attorney and he is giving advice to his daughter during the divorce proceedings. Katie is relying on her parents now more than ever and they have been her rock," the insider added.
The estranged couple's opposing parenting techniques is said to be the reason that Holmes dumped the "Rock of Ages" actor.
"He had no idea this was coming," a source told People magazine. "He's totally devastated and heartbroken."
Katie Holmes Feels Free After Escaping Tom Cruise
Tom Cruise and Katie Holmes Getting a Divorce