Ken Cuccinelli Blasted by 'The View' Co-Hosts for Pushing Law Outlawing Oral, Anal Sex in Virginia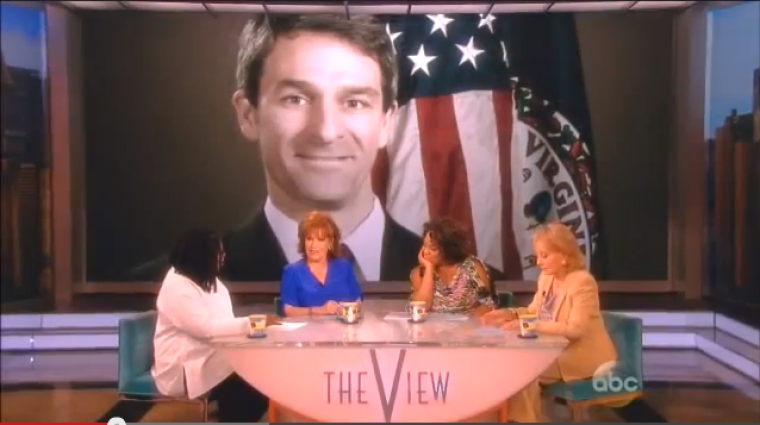 Co-hosts of popular ABC talk show "The View" blasted gubernatorial candidate and Virginia Attorney General Ken Cuccinelli on Monday for seeking to reinstate Virginia's Crimes Against Nature Law, which they claim will make oral and anal sex between consenting adults a felony.
On a website dedicated to the issue launched last Wednesday, however, Cuccinelli denied the claim and argued that he is simply trying to reinstate the law to protect minors from sexual predators.
The anti-sodomy law was ruled unconstitutional in March by a three-judge panel of the U.S. Court of Appeals for the 4th Circuit. Two of the three judges agreed that banning oral and anal sex violated the due process clause of the Fourteenth Amendment.
Cuccinelli has asked the full 15-judge court to rethink the decision while LGBT advocates maintain that the law is anti-gay and unconstitutional.
On his website, Cuccinelli attempts to clarify any misconceptions about his campaign.
"The law is only applied to sodomy committed against minors, against non-consenting adults, or in public," notes the website.
"In fact, contrary to misinformation peddled by Terry McAuliffe and his liberal allies against the defenders of this law, the law is not – and cannot be – used against consenting adults acting in private," he added.
In a segment of "The View" on Monday, co-host and actress Whoopi Goldberg first publicly congratulated a homosexual couple on their union, then said: "Thank goodness they are not in Virginia because Virginia Attorney General Ken Cuccinelli [is] running for governor and one of his campaign promises is to reinstate the so-called Crimes Against Nature Law which would among other things outlaw oral sex among consenting adults, married people, all kinds of folks making it a felony…."
"Michael Douglas better stay out of Virginia," quipped co-host Joy Behar as the women of "The View" joked about Cuccinelli's campaign.
"Whatever happened to the slogan 'Virginia is for lovers?'" asked co-host Barbara Walters.
"What he does is, is he automatically equates oral sex with homosexuality," added Walters.
"Well then I'm gay as a gay $2 bill," co-host Sherri Shepherd declared mockingly.
Goldberg then threatened that if Cuccinelli didn't stop pushing the law, she would make sure he doesn't become governor.
"I don't remember God saying anything about you being in my bedroom telling me what to do, so sir, you're not gonna become the governor [if] you stay on this track. I'ma make sure your behind doesn't become the governor," said Goldberg to cheers from the show's audience.