Ken Ham Thanks Small Atheist Protest of Ark Encounter for Publicity, Estimates Millions of Visitors in First Year
Young-Earth Creationist Ken Ham has said that while a small group of atheists are planning to protest the Ark Encounter, the newly-opened life-sized replica of Noah's Ark in Kentucky, there have been tens of thousands of visitors in two days alone, with many more expected to come.
"Many news sources today (including my homeland of Australia) are reporting on a group protesting the life-size Ark opening today in N. Kentucky. News.com.au states there'll be a 'renewed wave of protest' — as if there's some sort of massive protest against the Ark. One news source had the headline 'Protesters fire up as Aussie's ark opens.' Wow. This must be some massive protest!" Ham wrote in a Facebook post on Thursday, the day of the official opening of the theme-park.
"Now let's see — first of all, it is a group of primarily atheists who will be protesting a Christian facility — not a surprise! Secondly, according to their Facebook, they have just over 100 going to protest," he added, posting a screenshot of the planned atheist protest's Facebook page, which shows 112 people who have said they are going.
The Answers in Genesis president said, however, that over 8,000 visitors attended the ribbon cutting ceremony on Tuesday, and another 7,000 people came on Wednesday to the Ark, and that was even before the official opening.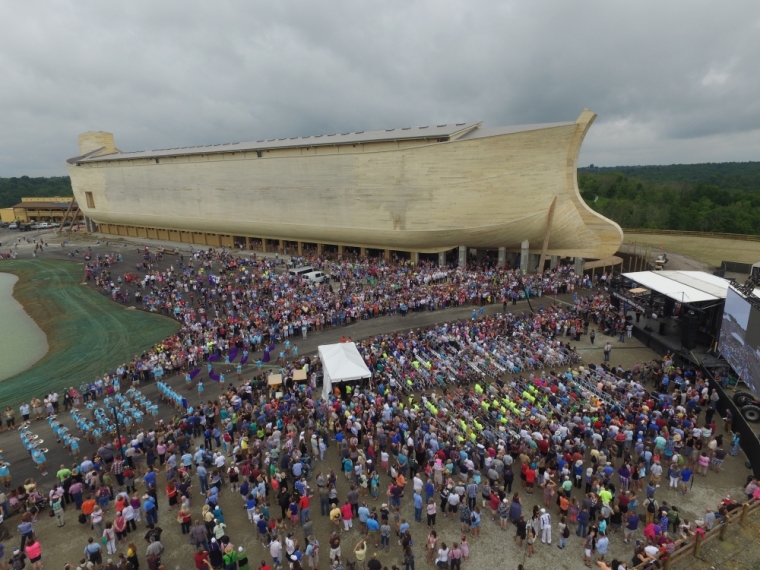 "The interest is very high — the people reach on my Facebook has over 7 million the last few days. So a handful of atheists protest thousands upon thousands of people coming to a Christian-themed attraction and attract media attention — thanks for the publicity," he added.
The Tri-State Freethinkers atheist group based in Union, Kentucky, has been one group protesting the Ark Encounter with billboards condemning the book of Genesis as "immoral and highly inappropriate for children."
The group called the Ark Encounter a "Genocide & Incest Park … celebrating 2,000 years of myths," and warned families against visiting.
Ham, who is also the CEO of The Creation Museum, told The Christian Post on Tuesday that the Ark is a way for Christians to stand up for their beliefs in America.
"In a world that is becoming increasingly secularized and biased, it's time for Christians to do something of this size and this magnitude," Ham said.
He added that people from many different backgrounds are expected to come visit the biblical attraction.
"I believe you're going to find all sorts of people from all walks of life with all sorts of religious backgrounds who are going to come here and even if they don't share our biblical view, they can't help but be impressed by the structure, craftsmanship and by the attention to detail of world class exhibits inside. And who knows? Maybe they'll be challenged to even talk about the Bible as we do," he told CP.
AiG added that an independent feasibility study by America's Research Group (ARG) estimated that between 1.4 million to 2.2 million people could visit the Ark within the first year.
AiG offered that this could prove to be an accurate estimate, given that the same group predicted that the Creation Museum would receive 400,000 visitors in its first year and 404,000 actually came within that timeframe.
Ham added that "the research indicates a large percentage — maybe 40 percent or more — will be non-Christians. People from all over the world have heard of Noah's Ark."