Kickass Torrents Follows In Footsteps of The Pirate Bay, Adds Support for Torrents Time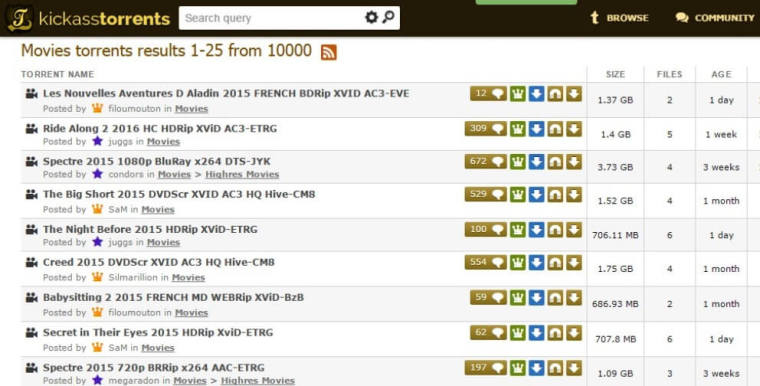 Just days after The Pirate Bay added support for the plugin Torrents Time, Kickass Torrents has followed suit and now has the plugin that will allow users to stream movies and television shows directly inside a browser.
Kickass Torrents has joined the growing number of torrents site that now supports the plugin Torrents Time to make streaming movies and TV shows a lot easier. In addition, users can also directly cast video playback to a big screen by using Chromecast, DLNA, or AirPlay, according to BGR.
Users no longer need to install a BitTorrent client to download and open a torrent. Once the Torrents Time plugin is installed, they can just download and play the files with a single click, VentureBeat explains.
In an email, the Torrents Time team said that their plugin has ignited a "revolution" by making movie and TV show streaming a lot easier than before. In addition, it takes away the worries about storage space, video codecs, file names, and the waiting time, the report relays.
"This is indeed a massive change … it is obvious that we started a revolution which allows any user to stream content directly from the browser, without leaving the site from which they started, without bothering with video codecs, storage space, messing with directories and file names," said Torrents Time in the email. "No more hesitating whether it's ok to download a torrent file or to wait until downloading finished."
Unfortunately, this big change does not come without bumps. Movie studios and anti-piracy organizations are making efforts to put an end to The Pirate Bay's and Torrents Time's streaming technology and software.
Dutch anti-piracy group BREIN has already issued Torrents Times a cease and desist notice, alleging that the plugin is illegal in the Netherlands. The group's lawyer Pieter Haringsma says the software team is engaging in copyright infringement by making pirated files available to users.
Torrents Time, on the other hand, maintains that the plugin is not illegal since it does not infringe on "copyright or neighboring rights."
Aside from Kickass Torrents and The Pirate Bay, other similar sites that have already adopted the Torrents Time plugin include Popcorn Time Online, Torrentproject.se, and Videomax.is.