Kim Burrell Admits Being Hurt When Fellow Christians Spoke Out Against Her Sermon on Homosexuality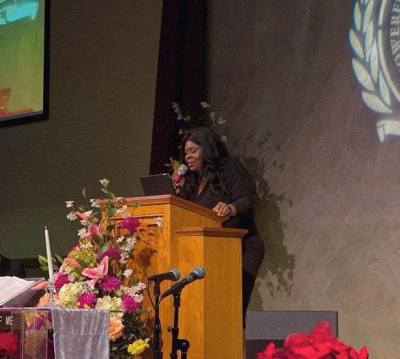 Kim Burrell was not hurt that her invitation to "The Ellen DeGeneres Show" was rescinded earlier this year when her sermon speaking against the LGBT lifestyle went viral, but she did admit to crying after some fellow gospel musicians spoke out against the singer and pastor.
Burrell, the gospel singer and pastor of Love & Liberty Fellowship Church in Houston, Texas, came under fire from the likes of talk show host Ellen DeGeneres along with some of her fellow Christian singers when her  sermon about the "perverted homosexual spirit" taking over the church went viral last December.
The BMI Trailblazers of Gospel Music Honors reneged on honoring her in their program in January, while fellow gospel singer Yolanda Adams called her sermon hateful. A number of Biblical scholars also spoke out against Burrell, and she admitted that opposition from people in the kingdom of God left her emotional.
During an interview with Praise 102.5 earlier this month, Burrell admitted to shedding some tears when church people were not defending the Word of God that she insisted she was preaching.
"You know what was hurtful is church people started to jump on the bandwagon of what secular people's description of it was. The one day that I cried is when I realized the frontline social world church was not as strong toward me or strong toward the word that I spoke to defend the word," she said. "Not enough people defended it."
As for some of the well-known gospel artists who spoke against her publicly, Burrell revealed that they previously led her to believe their views on homosexuality were different.
"They went for so long giving me one thing, but then the truth came out about their feelings concerning whatever," she said. " ... They kind of jumped on the bandwagon of famous people. I think that's because they decided to be more famous then Kingdom-minded."
When it comes to elevating her own platform on "The Ellen DeGeneres Show," Burrell said she wasn't hurt when DeGeneres announced that she would no longer appear on the program to sing "I See a Victory" from the movie "Hidden Figures."
In January, DeGeneres opened up about why she did not want to give Burrell a platform on her show.
"I actually didn't know her, her name is Kim Burrell. She made a statement she was doing a Facebook Live and she said some very not nice things about homosexuals so I didn't feel that was good of me to have her on the show to give her a platform after she was saying things about me," DeGeneres said on the show in January.
If she did appear on the show, Burrell said she may have ended up embarrassing people by questioning DeGeneres about her faith.
"I don't know if I should have made it to Ellen because I probably would have ended up embarrassing the church or embarrassing somebody because I would say, 'you know Ellen, do you know the Lord?" she said. "And I probably would have interviewed her about her relationship with God if we had sat down. Because that's my driving force, I love God."